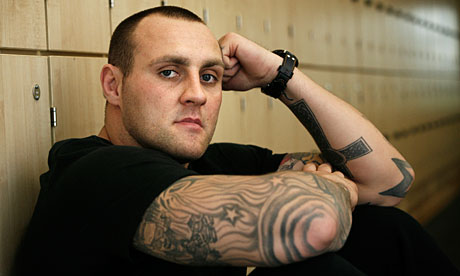 A move to a rival club is usually not a cause for an outburst, but in the eyes of Wigan Warriors Chairman Ian Lenagan, he had some rather stiff words to say about former Warrior Gareth Hock, who has now joined the Widnes Vikings on a season-long loan.
Hock, who was apparently after more money in his next deal, had approached NRL side, the Parramatta Eels abut a possible move, only for that to fall through – with Lenagan bitterly disappointed about how things panned out.
"Gareth Hock has made it clear in face-to-face discussions with me and via his agent, that he has no intention of playing for the Wigan Club. This is hugely disappointing to me, to the Wigan fans and to the Club who have all treated him well," said Lenagan.
"We have gone to unique lengths to help him get his life back on track after his ban two years ago, including increasing his contract voluntarily on two separate occasions to help him financially against a backdrop of his threats to leave. The Wigan Club has consistently supported the player and has done all that any Club could be asked to do.
"We acceded to his recent request for a move to Australia, on the basis that a change of environment and a different competition might be good socially for him, provided it was also financially beneficial to Wigan. However, this did not transpire. Even though better offers have been now received, he has made it clear he does not now wish to move to Australia and will not play for Wigan.
"A line has to be drawn at some stage and whilst with immense regret at losing a player of Gareth's quality, who I believe is still a Wiganer at heart, we have concluded that that time is now for the good of the 2013 Wigan Squad, the Coaching Staff and for the Wigan fans.
"Since I and Wigan are not prepared to allow Gareth Hock to play for one of our major competitors, we have decided to retain his Registration and to allow him to move on loan to Widnes Super League Club with whom we have an excellent relationship. He is not allowed to play against Wigan in any competitions.
"In terms of rationale, it is known that Gareth was upset that Shaun Wane took away his number 12 Squad Number – hardly surprising in the light of his expected departure to Australia – but we were expecting him to concentrate on his injury rehabilitation and to fight for his place in the Team.
"Having stood by Gareth Hock, we feel let down by his attitude under both Michael Maguire and Shaun Wane since returning to play for Wigan.
"I have instructed Wigan staff to now leave this issue behind, concentrate upon the coming season and make no further comment."
From the perspective of Widnes Vikings coach Dennis Betts, however, he is more excited at the potential the move has for the club, citing Hock's tremendous form last season and is pleased with what the English international can offer the club moving forward.
"It's been a hard task putting everything in place but well worth it, to secure somebody of his standing. Gareth is a current international player and regarded as one of the best back rowers in the world," said Betts.
"He's healthy and hardly missed a game for Wigan last year. He has loads of presence about him, knows how to play a very tough game and at the top end of his twenties; he's at a good, solid age and knows exactly where his career is going."
"When we looked around our squad, we realised we needed to move to the next level. We've already seen evidence of this following the recruitment of Kevin Brown, so to be able to bring Gareth in as well, offers even more cutting edge to our side.
"We've not made wholesale changes but those that we have will change our mindset and drive us forward.
"I appreciate that it is only a season-long loan, but people like Gareth don't come around too often. Having that 'something extra' about him, I'm confident that what he does over the course of the year will add so much quality to us.
"What we want now is for our members and supporters to get behind us and appreciate that we are trying to bring in high-end international players for them to come and watch. Throughout the whole organisation, our process is all about development and we are continuously looking at moving forward.
"Gareth has a lot of admirers within the game of rugby league and adding someone of his standing to our set-up can only make us that little bit better."
Betts is not the only one pleased to see Hock at Widnes, with the man himself excited at the chance to work alongside Betts once more.
"As a junior working my way through the ranks at Wigan, Denis was a first team regular at the time and somebody I genuinely looked up to. To later have him as my Coach was fantastic and I really benefitted from his knowledge of the game.
"When the chance of re-joining him at Widnes came around, I didn't need asking twice. They are a proud club with a great history and I'm looking forward to playing my part in what we hope will be a big season for the club.
"Being a World Cup year, individually, I'm desperate to have a big season and by doing so, hopefully put myself in with a chance of pulling on an England shirt and representing my country again, so I'll definitely be giving it my all for the team.
"It was really flattering to find out that there were plenty of other club's who would've also liked to have offered me an opportunity, but I've spoken to lots of people in the game and they have only had good things to say about Widnes. My Brother-in-law, Kevin Brown, has also told me all about the set-up, the professionalism and the ambition at the club, which made my decision even simpler and I can't wait to pull on a Vikings shirt and get started."