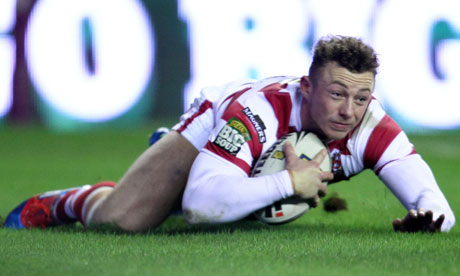 Not only did England themselves make a statement, but Wigan Warriors winger Josh Charnley made a statement of his own – scoring 4 tries on his international debut, helping the English side defeat Wales 80-12, in what was an absolute rout.
It was also some crafty work from English half Kevin Sinfield that set up a lot of tries, as well as scoring 24 points – winning him man of the match honours.
England fell just short of their record 74-0 win over Wales in 2009 in Bridgend, as Wales suffered their 6th straight defeat, leaving a lot of unanswered questions for Welsh coach, Iestyn Harris.
With England by far the better side, Harris admits that his side lacked the physicality the contest required right from the start.
"I thought we lacked physicality against them from the start. There was a bit of a realisation that we only have five or six full time professionals in there and a lot of guys are working," said Harris.
"To get to that level of competition is difficult and six or seven of our full-time professionals have not been available to us this time.
"I don't want to hide behind that fact because those standards are not good enough for Wales Rugby Lea
gue. Losing by 80 points is not good enough for any team, but certainly not when they are putting the Welsh shirt on."
With just 12 months before the World Cup, Harris also knows that his side has a lot to improve on, with his their physicality just one aspect that has to improve.
"The players are bitterly disappointed in there, but we have 12 months (before the World Cup) to put it right. Twelve months to show that, if we haven't got the physicality that is required at that level, then there is that time to be able to do that," Harris said.
With some key problems portrayed during the game, Harris did not expect them to be so recognisable, as he works to ensure similar results are not a part of the agenda.
"There is some baseline testing next week for the first time in Welsh rugby league's history and trying to give the lads an idea of where they need to be, and what improvement they need to make," said Harris
"We have areas we know are problematic for us, but I certainly didn't expect them to come out in such abundance this afternoon.
"I thought we looked dangerous with the ball in hand, but we just lacked physicality and when we had opportunities, they just seemed to power us in the tackle and get the next play which is an issue for us in an area we need to improve in."