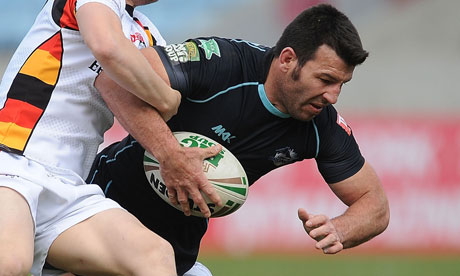 Panthers fans will still remember him well, and whilst he will go down as one of their best players, former half Craig Gower has decided to re-sign with current club the London Broncos, until the end of the 2014 season.
Gower, who joined the club for the 2012 season, made a total of 28 appearances for the Broncos, scoring four tries and kicking 27 goals in the process.
The 34-year old, who has also played rugby union in France and represented Italy whilst playing union, making him a dual international – said that he was excited to stay, and looking forward to the next two years.
"We're settled here, I spoke to the club and they were willing to give me another year which was great," said Gower.
"Obviously last season was a tough season but we love being here and we've enjoyed it, even though it was a tough grind it's just pa
rt of footy. I'm just looking forward to this year.
"That's the benefit of having a group that's a year older and hopefully we can respond to that, and play a lot more consistent football over the entire year.
"It's fine. Pre-season is pre-season, you are here to work and get yourself prepared for the new season, it's always tough, you just have to put the effort in and you'll see the rewards later on.
"For me it's winning games – if we can win games it just makes life easier and more enjoyable.
Tony Rea, who is the Broncos coach, believes that re-signing a player of Gower's experience is invaluable.
"Craig displays terrific appetite for the game and towards training and preparation," said Rea.
"Some people might query signing a player of his age but, the fact he played every game apart from one last year, is better evidence than his birth certificate. It's not a risk, it's calculated. The evidence is he is playing."