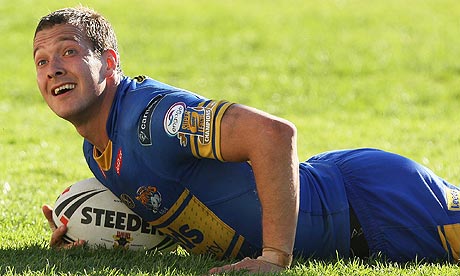 In a boost for Leeds Rhinos fans and the club itself, the leading try-scorer in the Super League era, Danny McGuire – has committed to the club until the end of the 2015 season.
The 30-year old still had one year remaining on his contract, but made the decision to sign a 2-year extension with the club, as he now looks towards preparing for pre-season and knuckling down.
"I am really pleased to get the contract agreed and signed before the start of pre-season," said McGuire.
"I can now fully focus on getting myself in the best possible shape for a massive season for the Rhinos and myself, with it being my testimonial year.
"I am feeling great at present, having had some time off at the end of the season,
and I am raring to go for the start of pre-season training on Monday.
McGuire will play in his 12th season for the Rhinos when the new season starts, having made his debut for the club back in 2001, surpassing fellow Leeds veteran and former team-mate Keith Senior, in most tries scored in the Super League, at 201.
Brian McDermott, the Leeds coach, is excited to have the talented halfback commit to a contract extension.
"Danny is a unique talent and we are very privileged to have him play his entire career at Leeds Rhinos," said McDermott.
"We all have been guilty over the years of perhaps taking him for granted in terms of what he does for this team, because he performs at such a high level every time he steps onto the field.
"However, his value to this team is never underestimated and I am delighted he has agreed a contract extension."