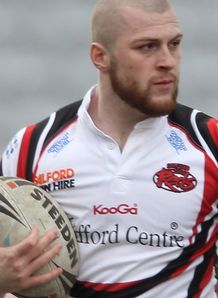 Changing clubs is rather frequent when it comes to any form of rugby league, and for Salford City Reds prop Adam Sidlow, he made a decision to move on – signing a 2-year deal with the Bradford Bulls.
Sidlow becomes the fourth recruit for the Bulls for next season, with the prop excited at the new opportunity he has in front of him, especially at a big club like Bradford.
"I really enjoyed myself at Salford, but this is a big step up in my eyes and I'm looking forward to the challenge here," said Sidlow.
"I'd like to thank Steve Simms and John Wilkinson at Salford because they have both been brilliant in letting me go.
"They said that if Bradford had a longer-term deal for me, then they would not stand in my way. I felt the security of being at Bradford for the next two years was a big step up for me."
With several other forwards making way at the end of the 2012 season, signing Sidlow gives the club some more depth in the forwards once more – with Francis Cummins, the Bradford coach, excited that they managed to sign Sidlow.
"Adam is a big lad," said Bulls coach Francis Cummins.
"He can get forward and he's got a great offload as well so he brings another dimension to our attack.
"We've been trying to sign Adam for a while and it has taken some time but he's here now and I'm really pleased we've got our man."