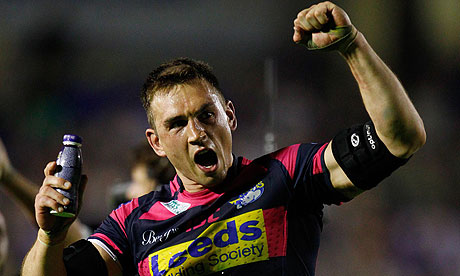 It is usually an Australian dominated award, but the English have reason to cheer this time around, as Leeds Rhinos and England rugby league captain Kevin Sinfield, becomes just the fourth Englishman to win the Golden Boot Award, in the award's history
Sinfield was surprised that he had managed to beat the likes of Cameron Smith, Billy Slater, Ben Barba and Nate Myles for the award, and was also surprised at his nomination for the award.
"Yeah, it's all a bit surreal and I'm really surprised, and just to be nominated, I was really, really happy," said Sinfield.
"To get the award is unbelievable and I think it is recognition for the group, rather than myself. I think the players I play alongside are world-class and when they perform like they do, it makes my job so much easier, so I'd like to dedicate it to all the Rhinos team."
Sinfield has a mountain of accolades behind him over the last few years, and being just the fourth Englishman to take out the award, makes it even more special for the Rhinos captain.
"Yeah, it does, and you look at the other Englishmen that are on that list with Ellery, Garry Schofield and Andy Farrell – to be in that sort of company, it's really humbling and really, really nice," said Sinfield.
"Never dreamt of being in that sort of company and Ellery was my hero growing up, so, like I said, it's a bit surreal, and I have a lot of people to thank. Mainly those that I've played alongside and we've had some fantastic players both for Leeds and England."
Sinfield, who may not be a popular name among Australian fans, put on a masterclass performance in the English Super League grand final, one that Leeds won, winning the man-of-the-match award and kicking at 100%.
What made that performance even better, however, was the fact that Sinfield suffered a nasty knock to the head early on, but chose to play on, in a gutsy performance.
"Yeah, I didn't know to much about it, to be honest," said Sinfield.
"It was a funny one really. I think as a rugby player, you just get up and try and do your best again and I weren't quite with it for a few minutes, but my missus would probably tell you it knocked some sense into me."
"I played alongside a group of players who are full of character and desire and I think any one of them would have got up and done their best, and that's all I tried to do and thankfully, we were good enough on the day."
With Sinfield winning the Golden Boot Award and Leeds coming into the 2013 season as defending champions, the weight of expectation will never be higher, as the pre-season slog has well and truly commenced.
"It's all about the team and it's a team sport and I fully realise that we needed to play well. When we do that, we're a threat and we can cause teams problems," said Sinfield.
"Like I said, this award is in recognition of the team, I think, and pre-season has gone really well so far. Some of the lads have been in for six or seven weeks now, and it's been tough as you'd expect."
"It's really enjoyable, the weather's been really kind to us, and we're really looking forward to the start of the season."
With the addition of several new players, Gary Hetherington, the Leeds Rhinos Chief Executive, believes that this Leeds side can become even better.
"Yeah, the lads have been great and we've got some fantastic young players coming through," said Sinfield.
"We've got people like Stevie Ward, Chris Clarkson, Callum Watkins and Zak Hardaker to name a few, who have been around now and won trophies and played in big games. They're a year older and with a year's more experience and the squad's fantastic.
"Add to that the addition of the Australians we've brought in, in Mitch Achurch and Joe Vickery who have been fantastic in training so far, and then we've got Joel Moon from Salford and I expect some big things off Joel."