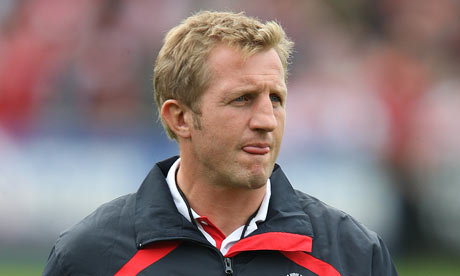 English Super League side, the Widnes Vikings, have received a boost heading into the ESL season, with head coach Dennis Betts, assistant coaches Mick Cassidy and Dave Banks and Strength and Conditioning Coach Clive Brewer, all committing to the club until the end of the 2014 season.
It was back in 2010 when Betts replaced Paul Cullen as Widnes coach, and after 2 years at the club that has resulted in changes across the board, both on and off the field, Betts is excited at extending his tenure at the club, and is pleased that his staff have done the same.
"From day one, my vision has always been about putting something in place and building the foundations to make this club stronger," said Betts.
"The reality is, these things take time, so I'm really pleased that our Chairman Steve O'Connor and Chief Executive James Rule believe I am the right person to continue this work and take things forward.
"I've been extremely fortunate to have been able to put in place some good people in Mick Cassidy and Dave Banks, who coach alongside me and also Clive Brewer, who works extremely hard with the players in the Gym.
"If you have ambitions of achieving anything, what you need is consistency. We have taken some big strides and there is a lot of work still to do, but we are moving in the right direction and this can only be good for the players, the coaching staff and the club."
Assistant Mick Cassidy, who is a former Great Britain, England and Ireland international has played for the Vikings as well as the Wigan Warriors and the Barrow Raiders, and is excited by the potential the Widnes team has to move forward.
"This pre-season has seen us start from a much higher level than we did twelve months ago. With the extra experience we've gained, as a group, we're confident that we can now build from where we left off and take things to the next stage," said Cassidy.
"Individually, I'm really enjoying my time at the club and our working environment is absolutely first class. Working alongside Denis, Clive and Dave means that I'm benefiting and learning from knowledgeable people every single day. We also receive lots of support from our CEO James Rule, who puts a lot of emphasis on team performance and togetherness within the group. With these structures already in place, hopefully we will reap the rewards."
Fellow assistant Dave Banks, who has been a part of the Widnes organisation since 2006, is also excited to remain at the club and did so immediately when given the opportunity to do so.
"I'm really pleased to commit myself to the club until the end of 2014. To be offered the opportunity to continue working alongside the likes of Denis, Mick and Clive, who have such pedigree, was far too good to refuse," said Banks.
"They are a fantastic set of coaches who live and breathe the game and all aspire to see the Vikings competing at the very highest level.
"We already have some wonderful systems and structures in place, but rather than take them for granted, we are constantly aiming higher and looking at ways to build and strengthen the club for both now and the future."
Equally excited to stay on board at Widnes, is Strength and Conditioning Coach Clive Brewer, who only joined Widnes 12 months ago, but has 16 years of experience in his field.
For him, it was a no-brainer to re-sign, as he too is excited at what is to potentially come for the Vikings side in the future.
"I think it's really important for us, as a coaching team to stick together and push through the principles we put in place last year and build on that. This togetherness also extends to the students who are also working hard alongside us in the Performance Department," said Brewer.
"Collectively, we have always spoken of the fact this isn't a short-term project and stressed the importance of getting the infrastructure right. By doing this, we will grow together as a unit and move forward accordingly."
Following the announcement, it was difficult to hide the smile and satisfaction that came across the face of Vikings CEO James Rule – which means Widnes now has their entire performance staff under contract for at least the next 2 years.
"I have been immensely impressed with the performance environment that has been created by Denis and his coaching team, and I am delighted that we have secured their services until the end of the 2014 season," said Rule.
"When you consider that just twelve months ago the club had to undertake the transition from semi-professional rugby into a full time professional Super League organisation, the progress that has been made is nothing short of remarkable.
"Denis, Mick, Dave and Clive have worked tirelessly to develop a united group of players and are at the forefront of a number of innovative partnerships with suppliers and organisations to ensure that we can squeeze every ounce of return from the resource we have at our disposal.
"Following their signatures, alongside the existing agreements with Andy McDonough (Head Physiotherapist) and Pete Talbot (First Team Physiotherapist), our entire Performance Team is now under contract for the next two seasons which offers us fantastic security.
"Individually and collectively, we can now focus on the necessary short, medium and long term planning that is required to continue the growth of Widnes Vikings."