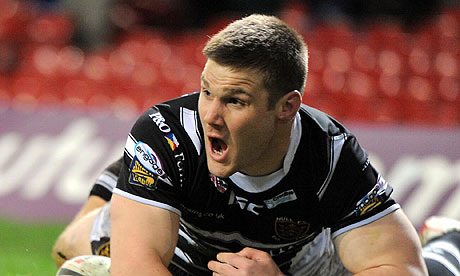 In the world of rugby league, injury has the potential to ruin any player's season, and for Hull FC centre, Kirk Yeaman, he was on the receiving end of a bad run of injuries in the 2012 Super League season.
Fast forward to 2013, however, and the 29-year old who has just signed a new 2-year deal with the Black and Whites, prior to their trial win over Castleford, is focused on making the next 2 years some of his best.
Yeaman is a former Great Britain international, and has scored a phenomenal 145 tries in 173 games for the club, with his new deal to keep him at the club until the end of the 2015 season.
"I'm really happy to sign a new contract and it's great timing to come with my testimonial game but, I'm not going to get sentimental – I'm only focused on making sure this is my best two years to come," Yeaman said.
"I was extremely frustrated with how last season went for me and I'm intent on making sure I bounce back this year and produce my best rugby.
"I love the club, I don't want to play anywhere else and I want to make sure that I'm back to my best week-in week-out."
Hull FC coach Peter Gentle knows full well what Yeaman went through injury wise in 2012, and is looking forward to seeing a fully-fit Yeaman carving it up for Hull FC.
"Kirk had shocking luck with injuries last season but he has come back in the best possible manner, and has been training the house down.
"I think we're starting to see the effect a fully-fit Yeamo can have on our team."