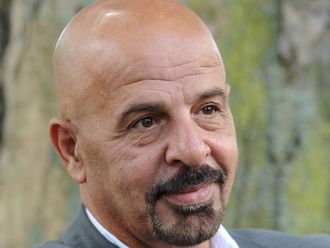 It was a long time coming and it was fraught with potential complications, but all Salford fans and those involved with the club can breathe a sigh of relief, as Dr. Marwan Koukash completes his takeover of the Salford City Reds.
Dr. Koukash, who is the owner of the global executive training company EuroMaTech is of Palestinian descent, is thrilled to have completed the takeover – keeping long-serving Salford Chairman John Wilkinson with the club, as their Life President.
"It gives me great pleasure to confirm that my purchase of Salford City Reds has now been completed ahead of the start of the 2013 Super League season," Dr Koukash said.
It was only after a chance meeting with RFL Chief Executive Nigel Wood in Dubai, that saw Koukash gain a stronger interest in the game of rugby league – with Koukash to pledge funds towards additional signings for the club, as they prepare for the upcoming season.
"This is a very exciting day for Salford City Reds and a momentous day for rugby league," the new owner added.
"No other club in the sport has the potential of Salford City Reds and I give a firm commitment to do all I can to help realise that potential.
"It will not happen overnight and I urge our fans to be patient as we set out on an amazing journey. My message is that the hard work starts now.
"I have not purchased Salford City Reds just to save the club, I have done so because I want it to succeed."
Someone who is equally excited about the officialdom of Koukash's takeover, is Ian Stewart, Salford City mayor.
"I am delighted that Marwan Koukash has stepped in to rescue the Reds and take over ownership of the club.
"It is the culmination of months of extremely delicate negotiations which the city council has been hosting in an attempt to save the club.
"I am sure that, with Mr Koukash's new dynamic leadership, his wide business experience and long-term investment plans for the Reds, the club can now go from strength to strength."