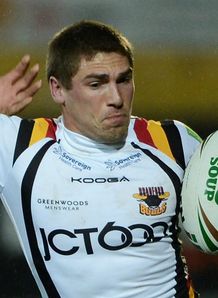 Coaches always tend to be the most vocal after games and in the case of Huddersfield coach Paul Anderson, it was no different – as he said he thought his side's performance in the 43-18 loss to Bradford was "embarrassing".
The loss means that the Giants unbeaten streak is no more, and whilst they still remain at the top of the table, Anderson was bitterly disappointed with his side overall.
"It was just embarrassing," Anderson said.
"Some of the errors we came up with were childish, dropping the ball with nobody in front of you. It robbed us of energy.
"It was a combination of what's happened over the last few weeks. We gave the ball away against Wigan and Wakefield and just got through the games but, if you keep doing that, eventually you are going to get burnt.
"Bradford got what they deserved and we got what we deserved. There was a real distinct lack of urgency with the ball."
On the flip side, Bradford coach Francis Cummins was happy that his side scored a surprise win, praising his side's fight and resolve after a tough loss to St Helens last week.
"We started really well and we needed to after last week," Cummins said.
"If you get a good start you get a bit of momentum.
"We knew they would come back but we were able to put a few more punches on the chin.
"I'm really pleased with how they performed. We know what sort of team we are. If we've got everybody 100 per cent sticking to what we do, we can cause people a bit of trouble.
"I'm really proud of how hard they worked."