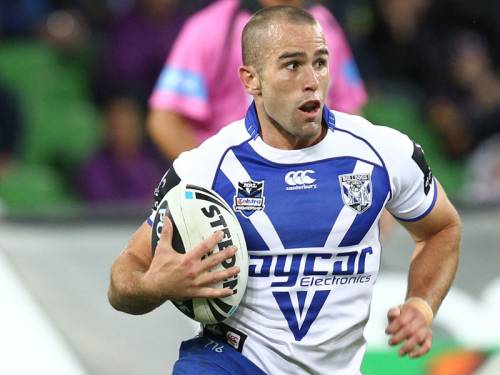 Injuries can be tough to deal with for any NRL player and when it means that you have to call time on your career, it is always disappointing for players and fans alike – and for Canterbury Bulldogs winger Steve Turner, that time for him has come, as he announced this morning that he would retire from the NRL effective immediately.
Turner, who is a Cambridge Park and Cranebrook Panthers junior made the decision, due to a debilitating knee injury that is preventing him from training and playing to the best of his ability.
Turner retires from the NRL with 161 games to his name for three clubs (Penrith Panthers (2), Melbourne Storm (105) and the Bulldogs (54), as well as with one City Origin appearance and one cap for NSW.
Whilst still at an age whereby playing was a viable option, Turner said that he had no intentions of playing on when his knee was giving him as much trouble as it currently is.
"My body just isn't holding up for me anymore," Turner said.
"It's unfortunate for it to end like this but I have no other choice with how much that it is mentally and physically draining me.
"It's so hard when your head is telling you that you want to do something but your body just doesn't let you.
"I actually had some extra knee surgery just before Christmas that no one knew about and I've been finding it hard enough to train let alone being able to go out and play as best as I can.
"I could be selfish and continue to play but that wouldn't be helping out anyone but myself and that is not the type of person I am."
Turner will not be lost to the game nor the Bulldogs completely, however, with the winger to remain at the club as a Media Assistant, a role he fulfilled during his rehabilitation stint from injury last year.
"I definitely want to head down the path of working in the media," said Turner.
"I have a big interest in that and managed to build myself a bit of a profile last year so it'll be good to keep doing some work at the Club and hopefully get some extra work around the place as well."
Turner has many fans within the club and coach Des Hasler had nothing but praise for Turner during his time at the club.
"Steve's decision has been made in line of his team and Club first," Hasler said.
"It is clearly a reflection of the individual.
"He will be sorely missed because of his professionalism and experience but the Club is hopeful that he will stay on in some capacity."
Bulldogs CEO Todd Greenberg also commented on Turner retiring, and is hopeful that his off-field success can be similar to that of his on-field success.
"He is a man that has always put the Club and team first," Greenberg said.
"The professionalism he brought to the Club when he arrived was outstanding and he has passed that on to the rest of the playing group throughout his three seasons here as a player.
"It will be great to have him here in and around the Club and everyone looks forward to continuing to work with Steve."