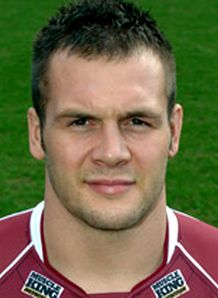 It was a matter of time before the first of the signings were announced, as the Salford City Reds begin their mass recruitment drive under owner Marwan Koukash and new coach Brian Noble – with Darrell Griffin and Jordan Davies the first two players to sign with the club.
Griffin, who has spent the last three months on loan from rival club the Leeds Rhinos, has put pen to paper on a 2-year deal with Salford, with the veteran prop pleased with the way the club has welcomed him in and with how they are building and travelling for the future.
"I've been really impressed with the club and the people here since I arrived eight weeks ago," said Griffin.
"It's clearly a club and a team travelling in the right direction.
"With the appointment of Brian Noble, who has such a history of success in the game, it means there are great times ahead here.
"The potential of the place is huge. If we can make some strong signings and build for next year and then again the year after, in two or three years we could be among the strongest in the game which would be excellent not just for Salford but for Super League as a whole."
Davies, who is perhaps a player that few have heard of, comes from the Sale Sharks, signing an 18-month deal with the Reds.
Having initially played rugby league before moving to rugby union, the club want to ensure that they do not heap pressure onto Jordan – rather, they want to help him become a solid player.
"Jordan comes highly rated, but we certainly don't want to heap pressure on him," said Salford coach Brian Noble.
"He has played rugby league before when he was 16, but a lot has changed since then so we will let him settle in to the way we do things.
"He will be having a look at us over the next 18 months as we are at him. He's an exciting prospect."
Paul Highton, Salford's Player Welfare Manager, says the club is excited to work with a young talent like Davies.
"We are really looking forward to working with Jordan," said Highton.
"He has bags of talent and this is a big career move for him. He knows the area, knows the stadium already and is chomping at the bit to get going.
"He will now be working closely with our conditioners to get up to speed as quickly as possible and provide us with another exciting option."