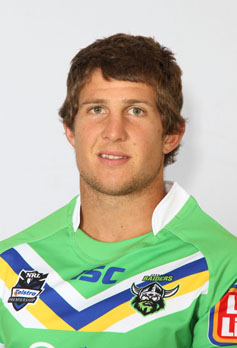 The Canberra Raiders have continued their aggressive recruitment drive when it comes to re-signing players, with fringe forward Jarrad Kennedy re-signing at the club for a further two years.
Kennedy, 24, was a part of the 2008 Raiders NYC team that won the inaugural NYC title, playing alongside current Raiders back-rowers Shaun Fensom and Joel Thompson.
Kennedy, a Moruya junior, made his NRL debut back in 2012 playing in a handful of matches, with the forward saying there is no club he would rather be at.
"It's great to be able to put pen to paper and concentrate on my football knowing I have two more years at the club to prove myself and work my way into the NRL team," Kennedy said.
"I've played a lot of my junior footy with a few of the guys who have re-signed and it's great to be able to stay with them at the club and hopefully play alongside them for the Raiders in the NRL.
"I'm just waiting for the opportunity to get another chance in the NRL team and I just need to keep playing well for Mounties and be ready for the chance when it comes.
"Seeing guys like Shaun Fensom and Joel Thompson work their way into the NRL team inspires me to work hard and even though I'm the same age as those guys I look up to them and know I can get there if I keep working hard as well."
With potential spots set to open up next season, Raiders CEO Don Furner is excited to have re-signed Kennedy, in order to see him develop further as a player and become a successful part of the club.
"Jarrad is another product of our junior development and his commitment to the club and his work ethic are second to none," Furner said.
"The coaching staff sees the same determination and work rate as they do in a player like Shaun Fensom and once Jarrad gets his opportunity I'm sure we'll see him pushing for more time at NRL level.
"It's great to see a lot of our juniors deciding to stay with the club and Jarrad joins the likes of other young forwards Paul Vaughan and Mark Nicholls who have recently re-signed."