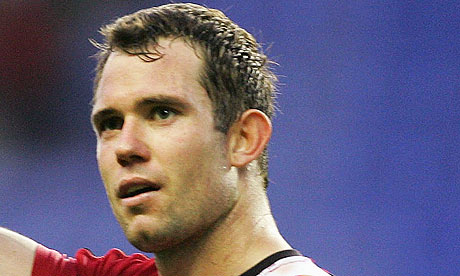 In any game, it is very hard not to sing his praises given the way he plays the game but Wigan coach Shaun Wane does it anyway – dishing out praise galore for in-form fullback Sam Tomkins who scored a hat-trick in Wigan's 64-6 rout over the London Broncos.
Not only was he scoring tries but he was also setting them up, as Wane was just lost for words at the brilliant form shown by Tomkins so far.
"What can you say?" said Wane.
"Sam is a total one-off.
"He really is a class act, his competitive nature in training and on the pitch is a joy to see.
"The individual try he scored today was one of the best I have ever seen, I just wish we had more players who had that attitude.
"For us to come here today and put on a performance like that leaves me ecstatic.
"Our attack was really crisp and I thought our concentration levels throughout were fantastic."
It was a night to forget for Broncos coach Tony Rea, who was honest in his assessment – criticising players for not playing with enough intent.
"The players did not come out with any sort of intent and Wigan have the players who can exploit those gaps," said Rea.
"We know there will be lows after highs, but such a low as that is unacceptable.
"We are measuring ourselves against teams like Wigan, and I thought there were performances out there today that showed me a lot of those players are not the answer in terms of where this club wants to be.
"We have some challenging times ahead and some tough decisions have to be made."