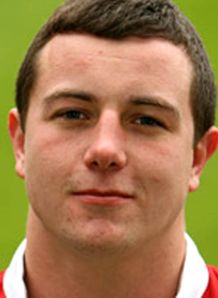 Clubs have to be resigned to losing players that have come through their academy and if you are involved with Wigan right now, it is definitely being felt – as Chris Tuson, a young forward, has signed with the Wakefield Wildcats on a 2-year deal.
Appearing in the 2011 World Club Challenge for Wigan, Tuson has played in 70 games for the club and also had a short loan stint at Castleford back in 2010, before becoming a permanent fixture in the Warriors side.
Alternating between the starting side and the bench for the Warriors, Tuson has scored six tries so far this season and is looking forward to his move to Wakefield next season.
"I'm really pleased and I'm looking forward to it. It's been a bit of a strange one because I've been at Wigan all my life, so I've never signed for another team and that's obviously new to me.
"I met Richard (Agar) and I came over here to have a look around and he said nothing but good things. I spoke to Richard Mathers because I know him from when he used to play at Wigan and he said good things and they are a really good team as they proved on Sunday, it was a really tough game.
"As far as next year goes, I'm really excited and looking forward to coming here and showing Wakefield and the fans what I can do as well as bringing as my experience from playing in the Wigan team.
"My main aim is to play every week and be a stand out player. I've been playing a number of different roles and I really want to Cialis Online pin down that back-row position and make it my own."
For Tuson, whilst he is impressed with how Wakefield have battled hard this year both against Wigan and in general, he does want to leave the Warriors with some silverware.
"Last time we played Wakefield at our place, they gave us a tough game when Justin Poore was sent-off early and they still scored points against us. When we did our review it was all about how Wakefield attack really well.
"Rich has spoken about how tight knit the team is now, so hopefully I can come in and buy into what Richard wants and what his team are trying to do.
"I am a Wigan player and I want to see this season out with Wigan. I've come through this system with quite a few of the boys and I want to finish well, win some trophies and have a real strong end to 2013 then I can start thinking about Wakey."
The club is also excited at the signing, with Wakefield coach Richard Agar seeing Tuson as being an effective runner on the fringes for the club next year.
"I'm delighted we've been able to sign Chris," said Richard Agar.
"He's quite an experienced player now and he's been a regular in a very strong side and arguably the best side in the competition over recent seasons.
"I think Chris will help us create a very hard edge while being ruthless because he's a very aggressive and competitive player.
"He's come out of a very strong system and I think he'll add a lot of competitiveness which I'm sure he's going to bring into our camp."