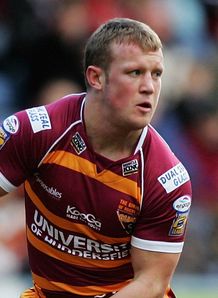 The talking point should be about their 22-16 victory over Hull FC but instead, an unhappy Huddersfield Giants coach in Paul Anderson was left rather angry post-game over a challenge on scrum-half Luke Robinson that left him unable to finish the game.
Played at the KC Stadium, Anderson was fuming at what he believed was a shoulder charge on Robinson by Hull FC forward Gareth Ellis.
"The tackle was a straight shoulder charge to the head. He's not knocked out for no reason," said Anderson.
"There are five people out there, one with the whistle, two with the flags and two muppets that stand at the other end of the field that don't see anything.
"It's a stone-cold shoulder charge to the head. I'm like Peter Gentle last week when Justin Poore dropped somebody on his head.
"Nothing will get done about our one, straight right shoulder to the head, it's a penalty. Luke is coming round; he knows he's in Hull at the minute."
It was a different Cialis Online interpretation from Hull FC coach Peter Gentle, however, who upon further review of the hit saw nothing wrong with it.
"I just had another look at Gareth Ellis' tackle on the video. He [Paul Anderson] better come and have a look at the video I've got. I didn't see anything wrong with it, not at all," said Gentle.
Despite suffering what was their fourth straight defeat, Gentle believes that his side is headed in the right direction moving forward.
"If we would have played like that in the last two weeks we would have got the results," he said.
"We've still got too many basic errors in us and our attack is still mis-firing.
"We talked at half-time about what we were supposed to be doing. We couldn't generate any speed of the play of the ball in the first half.
"We started the second half better and got some field position and if a few things could have gone our way it might have been a different result."