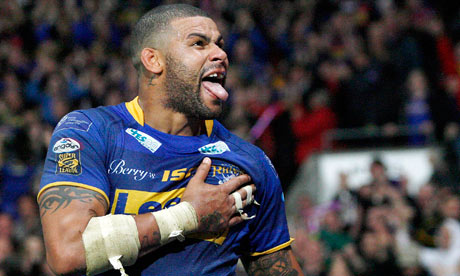 He was a possible target for the Brisbane Broncos not that long ago, but Leeds Rhinos forward Ryan Bailey has made a decision to stay at the club, has signed a new 2-year deal.
The only remaining off-contract Leeds player who had not re-signed with the club, has now done so, with Bailey just one of five players to have appeared in all six of Leeds grand final wins.
With the speculation about his future growing prior to this announcement, Bailey said that he had offers from more than just one NRL club.
"This was a big decision for me and something that I had to think hard about," said Bailey.
"I would like to thank all the NRL clubs who made offers to me and it was nice to know that they thought I could do a job for them down in Australia."
When push came to shove, however, and Bailey assessed his options, he could not see him himself leaving Leeds, describing it at his second family.
"However, this is my hometown club and I have spent my entire life here. The club have been loyal Buy Cialis to me and I think I have been loyal to them in return," said Bailey.
"Leeds Rhinos are my second family and I am probably happier and more settled now than I have been at any time in my career.
"It was stressful dealing with the contract side of things but that is sorted now and I can look forward to getting back fit and finishing the season strongly."
Bailey, who can be overly aggressive in-game, was praised by Leeds coach Brian McDermott, who is pleased to see the experience forward re-signing.
"Ryan has been huge for this club over a long period and I think it is a big thing for us that he has turned down the chance to go to the NRL to remain at Leeds and in Super League.
"As someone who has come through our academy system, he is a player that our youngsters can look towards and see that the rewards are there for you if you work hard.
"He is a special character within our group and it is great that he will be here for another two seasons at least."