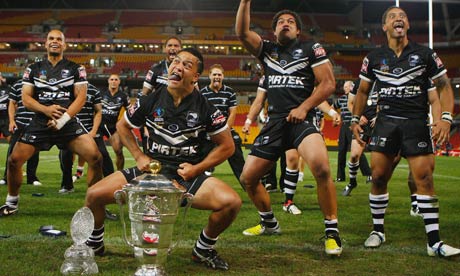 The lead-up to any World Cup is important for a varying numbers of reasons and the New Zealand Kiwis side know that, as they announce a friendly against the Cook Islands as a warm-up and in preparation for the World Cup later this year.
The game between the two nations will be played at Keepmoat Stadium in Doncaster on Sunday October 20, with the Kiwis wanting their players to get some solid match practice under the belts before the competition itself.
"We wanted a decent hit-out under English conditions before the World Cup," says the Kiwis' manager Tony Iro.
"There's a chance some of our guys won't have played for 6-7 weeks and we don't want to be underdone going into a tough first World Cup match against Samoa.
"We know that our boys, especially those that miss finals football, will want the opportunity to impress before the tournament and I'm sure the Cooks guys will be in the same boat."
With RLWC rules stating that any warm-up game you play cannot be against a team that will be in your pool for the competition nor against a team that you were likely to meet in the later stages of the competition, the going to organise a friendly for both camps was difficult.
The situation was made easier, however, with Tony Iro and his brother Kevin, who is the Commissioner at the Cook Islands Rugby League coming together and agreeing to a game, before Carl Hall, a former junior Kiwi and the CEO of the Doncaster rugby league side came into the mix.
"Carl is the electronic cigarette silver case sort of guy who makes things happen," says Tony.
"We're sure he and his crew at Doncaster will do a great job as hosts."
Hall enjoyed a successful stint as a player before eventually taking up his current role as the owner and CEO, with Hall keen to ensure that Doncaster was able to host something in the lead-up to it all, having missed out on the chance to host a World Cup game.
"I'm proud to announce that not only international rugby league is coming to Doncaster," said Hall, "but the reigning champions of the world will be playing at the Keepmoat Stadium.
"After Doncaster missed out on a World Cup game I was very determined not to let it go after the hard work the people of the town had put in to try and hold a game or host a nation at this year's tournament."
With the match likely to be a successful one, Kevin Iro can see the benefits of the clash for both his side the Cook Islands and for the Kiwis.
"We couldn't have asked for a better build-up to our campaign than by testing ourselves against the title holder," he said.
"The nucleus of our team has been together since qualifying for the World Cup in 2009 and since then many of our players have gone on to play in the NRL and Super League. Players like Isaac John, Zeb Taia, Keith Lulia, Tinirau Arona and Zane Tetevano will be relishing the thought of playing the Kiwis, as will younger squad members like Tupou Sopoanga and Sam Mataora."