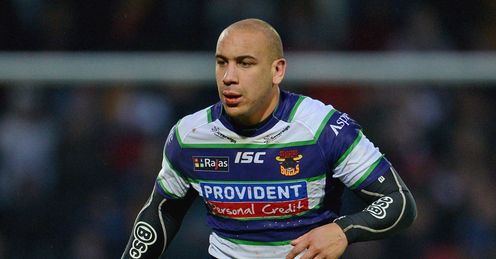 Formerly a player at the Warrington Wolves before his loan move to rivals the Bradford Bulls, Matty Blythe and the club have agreed to a deal that will see centre stay at the Bulls for the long-term.
The deal, one that will run for three years, is one that Blythe is excited about, believing that it was the best option for him moving forward.
"I just thought it was the best option for my career," said Blythe.
"I spoke with Warrington and they were fine with me pursuing another club and I decided to stay here [at Bradford].
With the potential for bigger and better things moving forward, Blythe said a key for him in staying at Bradford was the way in which the club were moving forward.
"I wanted to stay here because it's a good club and we've been doing really well this year," said Blythe.
"We've had a bit of a blip which every club has whether you're winning or losing and the lads have been great during the season.
"They're great to be around and I've enjoyed every moment here so far, so I wanted to stay."
Bradford have had a bumpy ride over the last few years, but for Blythe, he was impressed with their resolve and motivation moving forward, a trait he liked and one that convinced him to stay.
"The things that they went through last year has not dampened the team spirit and it Levitra Online was nice to be a part of that this year," said Blythe.
"It's massive team spirit. It can get you through games, through training and fitness.
"It was one of the reasons why I stayed here, because we have a team full of characters and it's always fun to come over and train, even from Lancashire."
With the signing a good one for the Bulls moving forward, coach Francis Cummins is pleased to have Blythe sign a long-term deal.
"Matty is someone who has been in the Warrington system but has been given a chance here and is enjoying it. He will only get better," said Cummins.
"He is an important signing for this club and for him to agree three years is a huge thing. It shows you that players are willing to commit their future here and back the club.
Those within the club are already quite familiar with Blythe, including Deputy Director Robbie Paul-Hunter, who was still in his playing days when Blythe was a youngster coming through the ranks.
"I had the pleasure of playing with Matty as a young professional in my time at Leigh and I am excited that he has signed for us," said Hunter-Paul.
"He is an outstanding athlete and is very versatile in that he can play in the outside backs as well as the second row. To have that quality and versatility available is a massive plus for any Super League Coach."