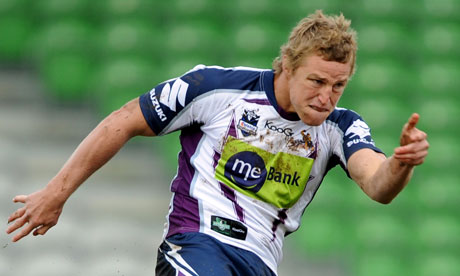 He has played for quite a few clubs throughout his career – a long one at that – but for any player, they know when the time is right and for Melbourne Storm half Brett Finch, now is that time, with the NRL veteran announcing his retirement from rugby league at the end of the season.
Finch, who has enjoyed stints with the Canberra Raiders, the Parramatta Eels, the Sydney Roosters and most recently, the Melbourne Storm, made the announcement in his usual humble way, announcing it via the Footy Show last night.
Finch is regarded as a quiet, humble player but at heart, he is a larrikin and a bit of a practical joker, a trait that made him either a favourite among some players or a bit of a pest.
It was back in 1999 when Finch first played rugby league, making his debut for the Canberra Raiders at just 17, with the veteran recently playing in his 50th game for the Melbourne Storm.
Looking back on his career, Finch sees some games as his best and some moments as highlights, but when it comes to a favourite day of his to play footy, he says Friday nights are the day for that.
"One thing I've always loved as a footy player, is Friday night football," said Finch.
"It's always a big occasion, especially on your home track at AAMI in front of a big crowd.
"That's the most exciting part."
Once retirement comes around, for Finch, it is about the next Online Pokies opportunity in life and it looks like he has that all sorted, with the veteran to immerse himself into several media opportunities including one with Channel Nine.
For Finch, the time was right and he looks forward to the next chapter in his life.
"The time has come for me to enter a new phase of my life," Finch said
"I've had a great run and I just know the time is right.
"Rugby league has been very good to me and I feel very lucky to have enjoyed such a long and enjoyable career."
Although signing a deal with Channel Nine for media commitments, Finch said that one day, he would like to get into some form of coaching.
"It hasn't been an easy decision but I now have an opportunity to step into the media going forward and will be joining Channel 9 next season," he said.
"I'll still be around the game I love and I still hope to be able to get involved with coaching in some way, shape or form."
Playing in 50 or more games for the four NRL clubs he has played for and for English Super League side Wigan, Finch has been exposed to his fair share of teams and also has representative honours to his name including some memorable moments during those games.
"I've had some great times," Finch said.
"And while all those clubs have been fantastic to me, it's no secret that Melbourne holds a special place in my heart."