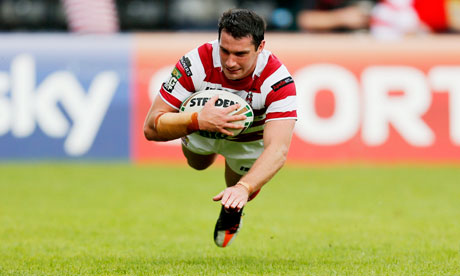 It was a tense, tight affair and one that had Hull FC fans buzzing about making the Challenge Cup final but ultimately, it was the Wigan Warriors who came out on top, as they won 16-0 to become the 2013 Challenge Cup champions.
There were only two tries scored – Sam Tomkins and Iain Thornley the scorers – in what was the lowest scoring Cup final in 33 years, as handling errors by both sides cruelled them of further attacking opportunities.
"We were in control, all credit to the players," Wane said.
"The conditions were poor and credit to Hull, they had a real dig, but today was our day.
"It's a joy, they're a great bunch of players and I've got a fantastic staff. To come to this great stadium and get a win like that against a quality team is what dreams are made of."
It was Wigan half Matty Smith that won the Lance Todd Trophy for Man of the Match, as his kicking proved vital, with the half over the moon at his side's Cup win.
"It means everything," Smith said.
"It's what all the aggro is for, to win trophies like this.
"This is the reason we play the game, to lift that trophy will be something I'll never forget.
"It makes it an even game when conditions are like this. We had to complete our sets and kick well. We knew it play online casino slots was going to be close. They're a fantastic side but it was just our day."
Despite ongoing speculation about his future, Tomkins had no intention to discuss that and instead wanted to focus on his side's cup win.
"I was waving there because I'd just scored a try at Wembley, no other reason," he said.
"I'm here to play in the Challenge Cup and win with Wigan, not to talk about that.
"This means everything. We know the tradition of the cup and these tens of thousands behind us know what it means."
Hull join a club that they perhaps did not want to, becoming the first club to be held to nil in a cup final since 1989 when Wigan beat St Helens.
The loss means that Hull are still searching for their first win at Wembley, as coach Peter Gentle lamented his side's inability to hold onto the ball when it mattered.
"We couldn't hold the ball," coach Peter Gentle said.
"We still only conceded two tries so credit to our defence but, if you can't hold the ball, you're not going to win.
"We spoke all week about having an even share of possession but they were too good for us in all facets.
"We gave them a good leg up – there were four or five sets in a row there where we didn't get past tackle two – you can't win doing that."