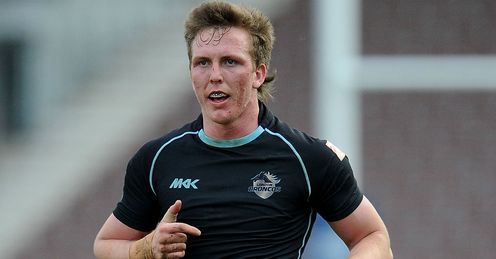 Players moving clubs is inevitable but rarely do players move from the same club to the same club, though it has happened this time – with London Broncos duo Dan Sarginson and Tony Clubb both signing with the Wigan Warriors for two and four years respectively.
Both players are coming off consistent seasons for the London Broncos, duo both representing England – Sarginson for the U18's side and Clubb for the national side.
With both players performing well and at a high level, Wigan Chairman Ian Lenagan is excited to have the duo on board at the club.
"We are delighted to announce that both Dan and Tony will be joining us. Dan is a young player we rate highly and is an excellent prospect,: said Lenagan.
"Tony is also a player we have admired for some time and has been one of the stand out performers in the London side in recent seasons. The addition of Dan and Tony will add competition for places within our squad for 2014 onwards and I know both are really excited about the opportunity to play for Wigan Warriors."
Also excited to have the duo on board is Wigan's coach Shaun Wane, with the coach keen to see the two in action and involved with the club.
"Dan is a young player with lots of potential," said Wane.
"He has been playing consistently well in the Broncos team and we know he has the attributes to settle quickly into the Wigan Way. Tony meanwhile, is everything I want in a forward – powerful and dynamic. He is hungry for success and possesses great leadership qualities which I am keen to tap in to. I am looking forward to working with both of them, they are great acquisitions to our squad."
The duo themselves are excited to join, with Sarginson keen to accept the challenge that faces him, as he looks forward to representing one of the elite Super League teams.
"This is a fantastic opportunity for me to join the biggest name in the competition and I am really looking forward to this new challenge in my career," said Sarginson.
"I have had a great time with London and I would like to thank everyone who has played a part in helping me to progress and improve me as a player. "
For Clubb, the veteran of the duo, he too cannot wait for the new challenge that lies ahead of him but was thankful for his time with the Broncos.
"I want to take this opportunity to thank London for everything they have done for me, I have thoroughly enjoyed my time with them and I have made many great friends," said Clubb.
"This though is a new exciting chapter of my life signing for Wigan and I couldn't be happier. I just can't wait to get started."