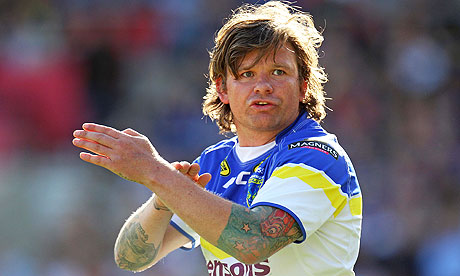 In the world of rugby league, injuries can sometimes end careers and in the case of Lee Briers, after medical advice from doctors, he has retired from rugby league effective immediately due to a neck injury.
Briers, who is a Warrington Wolves legend and stalwart, is a former Welsh international and is the Wolves' all-time leading point-scorer – and he is privileged to have played for as long as he has.
"I feel privileged to have played for so long," Briers said.
"Unfortunately it has come to an end but it was going to one day and the doctor took that out of my hands.
"I'm sad but I've got good things to look forward to now with the coaching; my next chapter.
"It is something I have always wanted to focus on and now I have the opportunity to do that.
Keen to embark on his new and exciting role, Briers will be in charge of finding the next crop of talented players for the Wolves moving forward, as well as helping out Welsh coach Iestyn Harris as an assistant for Wales.
"I would have liked an extra year playing but I now hope to help find the next superstars of Warrington Wolves," said Briers.
In a career that started in his home-town of St Helens, a move to Warrington happened in 1997 and in that time, Briers played in 452 games for the Wolves and scored 2586 points in that time.
For Warrington themselves, coach Tony Smith, he was thankful and grateful for the service Briers has given the Wolves and he looks forward to the chance to continue working with him in his new role down the track.
"On behalf of the Warrington club, its supporters and rugby league fans, I'd like to thank Lee for his contributions to the game," said Smith.
"He has brought enormous enjoyment and pleasure to those who have witnessed his skills.
"I have personally enjoyed watching Lee develop both as a player and a person and look forward to working with him in the next chapter of his career."