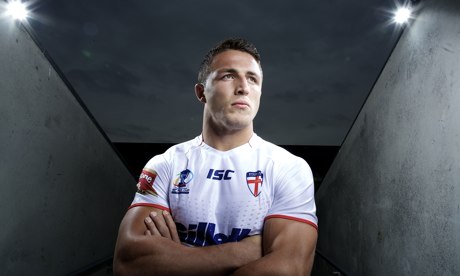 With the finals of the World Cup fast approaching, it was just the sort of clash the English needed – at least according to coach Steve McNamara – who saw his side win 34-12 against a tough Fijian outfit.
Trailing the Fijians at one point just before the break, they turned on the afterburners when it mattered and piled on the points, in a strong showing against a dogged Fijian side.
"It was a proper Test match," McNamara said.
"We always knew it would be.
"It was a very tough test match. It's exactly the test we needed. I think it bodes well for us in the quarter-finals."
With more poise and direction in the second half, the 15 minute blitz and more direct play left McNamara pleased.
"We were a little bit more direct (in the second half) and I think we did that tremendously well," said McNamara.
The players themselves could see that their overall play was lacklustre, with prop Sam Burgess commenting on how poor their first half was and how good their second half was.
"We did not play to our strengths in the first half. It was a great team effort (in the second half) and I'm very happy for the team," said Burgess.
For the Fijians, although their efforts were valiant, coach Rick Stone admits that the experience and prowess of the English side was just too good for them in the second half.
"I am pretty proud of the guys and the way we played, especially in the first half," said Stone.
"Obviously it was a really good effort.
"But England were great in the first 20 minutes of the second half and we couldn't contain them. We kept fighting on and gave it all we had.
"We're enjoying the experience. For some of the boys who have never left home before it has certainly been an amazing experience."