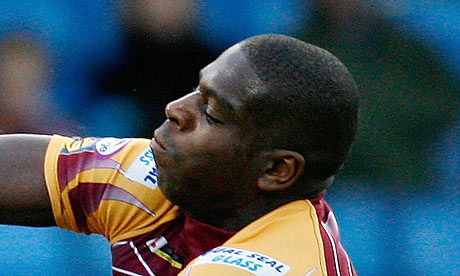 A fantastic game to start the season pitted two talented sides against each other and it was the Huddersfield Giants who came out on top, as they routed the Wigan Warriors 24-8 with an impressive showing.
The game was played at the DW Stadium and it was Jermaine McGillvary who was the star of the show, as he nabbed three tries, with 2013 Man Of Steel Danny Brough also impressing.
Defensively, the Giants were just as potent as they repelled attacks before capitalising on the attacking end and converting their opportunities into points.
Although there is always room for improvement – something Giants coach Paul Anderson is well aware of – it is a win that he will take, and one that gets his side off to a cracking start in 2014.
"A win's always good but to come to a place like Wigan and go up against the quality in their team was very pleasing," said Anderson.
"Wigan threw a lot at us and I thought in the main we defended real well. The most comfortable we looked was on our try-line defence.
"I don't think we played well to be fair, we were a bit underdone, but we'll take it."
To further complicate matters for Wigan, both Sean O'Loughlin (hamstring pre-match) and Michael McIlorum (pre-game injury) took no part in the game and new recruit Matt Bowen was placed on report for a high tackle.
As for their performance, Head Coach Shaun Wane knows that his Wigan side have to improve.
"We lost him and then we lost Micky McIlorum who pulled up whilst warming up and we didn't get much game time from him," said Wane.
"That's not an excuse, I still expect a certain performance, a better performance and not having those two players on didn't make us lose that game. The play the balls were really slow which is disappointing and we need to have a bit more fight and carry the ball stronger and we didn't do that today."
With the World Club Challenge coming up, Wane knows things have to improve quickly.
"We have two weeks to fix it before the World Club Challenge," said Wane.
"It has happened to us before where we have performed poorly one week and improved when we need to. This was tough to swallow because I wanted a good performance and we didn't get it."