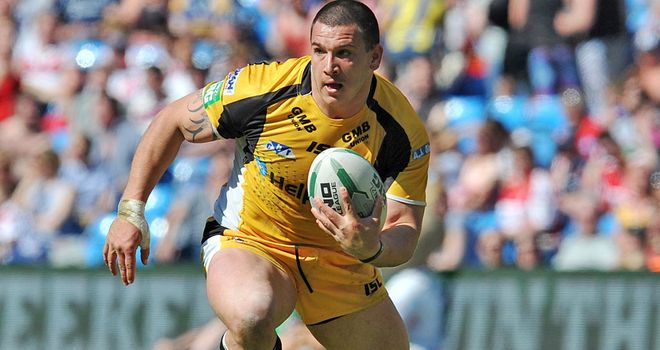 It was a Justin Carney hat-trick that stole the show and resulted in a comprehensive 32-6 win for the Castleford Tigers but despite the win, coach Daryl Powell insists there is more to come from the Tigers.
Tied at the top of the Super League table after two solid victories, Powell is happy with how his side performed overall and with Carney, but knows that there is improvement in his side.
"We've shown we've got a little bit of something about us," Powell said.
"Obviously defensively today we've got to be happy with conceding six points against a team that have been outstanding over the last few years in Super League. And we've scored over 30 points in our first two games.
"There's quite a few people who doubted we'd be able to score points after what we've recruited and what we've lost, and I think we've sort of answered a few of those questions today.
"I'm pretty pleased with the overall effort but there's still loads of improvement in us as well. We're not going to fall in love with ourselves too much but there are some good signs there."
Carney especially was on song scoring a hat-trick and coach Powell was quick to praise the efforts of the winger.
"You are better having him on your side than the other side," Powell said. "He's certainly a handful.
"You want to give him as much space as you can and he got some space today. But there were other times when he didn't have much space and he made things happen, and that's Justin Carney.
"He's a difficult player to handle, no question about that."
It is a very different story for the Catalan Dragons, who are searching for their first points and win in 2014, slumping to two early defeats.
Not one to hold back in his comments, their coach Laurent Frayssinous was bitterly disappointed with how they performed.
"It's embarrassing the desire the players put on the field today. Cas were too good for us," said Frayssinous.
"Defensively that's too many tries in two games for me.
"I was not really surprised by Castleford's performance. I was more surprised by our very poor performance. I didn't expect a performance like that."
To rub salt into the wound, Frayssinous felt that his players were not getting an even share of penalties awarded in their favour.
"We were not rewarded by the ref (Tim Roby). We were always being penalised. I think the ruck was too slow – it became a defensive game, not an offensive game," said Frayssinous.