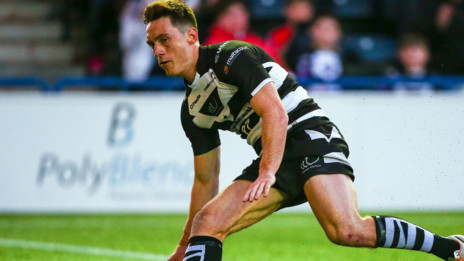 Game-time last year was scarce for one young, talented Widnes half but after impressing in 2014, Tom Gilmore will remain at the Widnes Vikings for a further two seasons.
Gilmore, still only 20, is a product of the Widnes academy and having scored five tries in seven games this year and enjoying his time at the club, Gilmore knew the best option was to remain with the club.
"I'm very pleased to sign my contract and now focus on playing Rugby League," said Gilmore.
"I feel I've got lots more to give Widnes and as I get older I think the supporters will really see what I'm about. Denis Betts trusts me and always has done. He knows what I'm capable of and I'm looking forward to developing even more and bringing that on to the pitch."
Gilmore has also represented the English academy side and with the opportunity to become a regular starter in the Widnes side moving forward, the young half is keen to put in the hard yards to make that happen.
I'm pleased to get some more game time this year and I'm keen to push on and get more games under my belt at the back end of the season," said Gilmore.
"My plan has always been to stay at Widnes and eventually become the scrum-half here. Widnes Vikings is my home town Club and I'm proud to represent it and pull on the shirt.
"I know there's a lot of hard work ahead but my aim is to be a regular here and be Widnes' half-back. I've been a part of the Club for a long time now and that has to be my goal."
With maturity a key for any young player, Widnes Vikings coach Denis Betts has seen Gilmore develop as a player and a person and knows how crucial it was to retain him within the club's strong culture.
"Tom is really starting to mature as a player and I believe he's a half-back with huge potential. He's suffered a little bit with injuries so far in his Widnes career but that's now behind him and we've seen him play a good number of games for the First Team where he's impressed," said Betts.
"I'm really pleased that Tom has signed a two-year deal with the Club as he is part of a young group of players that we have developed and they enhance our culture and environment. It's important that we keep hold of young players like Tom who are improving all the time.
"He's been in our system since he was a teenager and has come through the ranks. He is part of a group of players who we think will be develop and play a big part in making the Club successful."