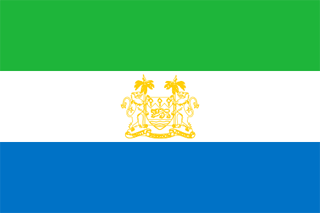 They are only just starting in the world of rugby league but their development and work put into the sport has seen them rewarded, with Sierra Leone the latest African country to be rewarded with official RLEF observer status.
With Ghana and Nigeria the two previous nations to be included, Sierra Leone's application was officially complete, with their development work and commitment drawing praise from RLEF Chairman, Maurice Watkins.
"Given the current circumstances in Sierra Leone, the achievement is even more notable and it is a credit to the organisation that it continues furthering the sport's interests in extremely difficult conditions," said Watkins.
One man behind their development is Sierra Leone Rugby League Federation President, Charbel Raad, a former player himself.
It was his resolve that saw the first team formed in Freetown, in a bid that was supported by the Welsh Rugby League.
"On behalf of the Sierra Leone Rugby League Federation, we are proud to be a member of the RLEF," said Raad.
"Sport has been a binding element for the local beach boys, college and school students, bringing them together every Sunday to practise, play and enjoy a little competition together."
Additionally, in light of the restructure of the American rugby league governing bodies, they have also been granted observer status by the RLEF.
"The USA Rugby League would like to extend thanks to the RLIF and RLEF for instilling their trust and granting our membership application as the governing body for rugby league here," said chairman Peter Illfield.
"For the past four years we've worked diligently towards meeting the requirements and look forward to continued efforts for Full Member status in time for the 2017 Rugby League World Cup.
"My personal thanks go out to the board, clubs, administrators and fans who have played a part in us reaching this tremendous milestone. Our work has only begun and we look forward to reaching even greater heights."