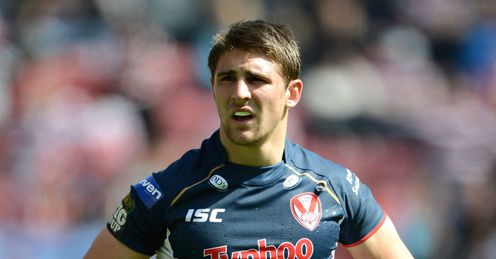 Regarded as one of the best talents within the St Helens roster and in England, the club received a massive boost with Tom Makinson re-signing for a further four seasons.
Makinson, who is a home-grown player, has played in 63 games to date and has scored 69 tries and 79 goals since debuting four years ago.
The exciting winger is on the up, having been named in a mid-season England training camp, although he missed out on eventual selection in England's Four Nations squad.
The club have been well aware of his talents for some time and club Chairman Eamonn McManus says keeping him was imperative.
"Tommy has proven himself as a natural, and sometimes unnatural, tryscorer for the Saints," said McManus.
"He's one of our many academy-trained players in what is a very young and exciting first-team squad. It will only improve further this season and in the seasons ahead.
"It's more than satisfying to lock him in for four years and I'm sure he's going to share in more success with his team-mates."
The man himself is excited to stay and says he could not see himself playing for any other club.
"I've already had a great four seasons with the first team at my boyhood club," sad Makinson.
"It is a thrill to know that I'll now be a part of it for the foreseeable future.
"We have a great young squad who know each other well and who'll be doing everything to keep the club at the top. It's a great time to be at St Helens."