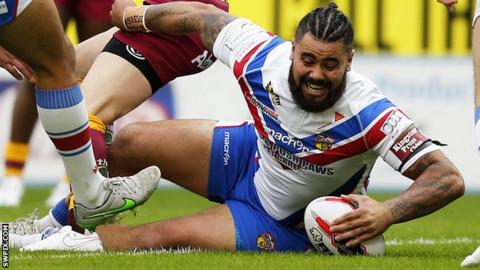 Hear the name Fifita and you probably immediately think of Andrew but in this instance, David is the Fifita in question, with the forward re-signing at the Wakefield Wildcats for another season.
Joining the club in June from the Cronulla Sharks, he had an option in his favour which he took up and is excited to continue playing for the club.
"I am really excited to get an extra year under my belt at Wakefield," said Fifita.
"It is a fantastic club with a great set of fans and I cannot wait to get back into pre-season and get back out there on that field to repay all of their continued support."
Making 13 appearances for the club since joining them, the club are also pleased to have him extend his tenure.
"I am delighted that David (Fifita) has agreed to a new contract with us, especially as I know how much this means to the Wakefield supporters," said Wakefield head coach, Chris Chester.
"He is an important member of the squad who adds a lot of passion into the side with his big personality both on and off the field.
I know that he has got a lot more to show us this coming year and I am looking forward to working along side him in 2017."