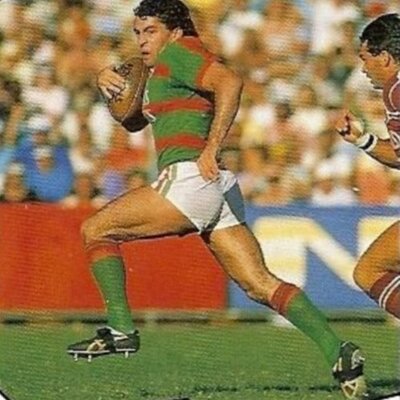 Back again as our NRL interviews series continues; this time, we had Steve Mavin chat to us. 
The former South Sydney Rabbitohs and Canterbury Bulldogs player played alongside some greats and enjoyed a relatively successful career.
Here is our chat with him:

1. What are your earliest memories of rugby league?
Playing for Botany United at Booralee Park & watching the Rabbitohs from the hill at Redfern Oval.
2. You made your debut with the Rabbitohs at just 19 years old; were you expecting the opportunity to come so early?
I was lucky that the opportunities that led to my debut all fell into place. I was called up to grade from Souths Jersey Flegg as a forward when I was 18yo in 1986 and made my way into a fabulous u23s pack that won the comp that year.
That team included Ian Roberts, Joe Thomas & Ross Harrington to name a few so I had some great blokes to learn from. I also played a few reserve grade games and packing down against some older heads was a real eye opener but also gave me the confidence that I could compete at that level.
In 1987, I was elevated to trial with the 1st grade team & made my way into the centres because our formidable forward pack contained the likes of Les 'Bundy' Davidson, David Boyle & Mario Fenech.
Playing alongside my centre partner Paul Roberts, we put on a few tries in the pre season, I ended up playing every game for the Bunnies that year and was leading try scorer for the club.
3. You then played for the Canterbury Bulldogs; tell us a bit about your time there?
I played one season at the Dogs in 1991 & it's a tremendous club & my teammates were a great bunch of blokes.
It was a side full of talent with the freakish ability of Ewan 'Panda' McGrady alongside the likes of Darren Smith, Jarrod McCracken, Dean Pay & the 'Welsh Wiz' Jonathan Davies.
Best of all was playing with the great Terry 'Baa' Lamb, it was something special. His knees were gone so he couldn't really train during the week but on game day the champion player would always take the field & do his thing, carving teams up and always putting himself in the right position at the right time.
His timing was impeccable, what a player! My fondest memory was actually backing him up to score the winning try against the Broncos at Lang Park, I'll never forget that one!
4. You were well known for your swan dives when scoring tries; was that just something you had always done or was there a reason for it?
As a kid, I always liked sliding to the line to score with the ball tucked away like Steve Rogers used to do and I suppose the swan dives evolved from that, I just added a bit of air to the routine.
5. You returned to the Bunnies in 1992 for a final swansong; how much did the club mean to you?
I've always loved the Rabbitohs being born and bred in Botany which is the heart of Souths territory so it was a dream come true to be player number #757 for the club.
We had some lean years for a long time and I've been part of that heartache both as a fan & a player. I was at the GF in 2014 with my wife when we finally ended the drought and we were in the corner where GI scored & did the Goanna.
We went back to Souths Juniors & we were able to celebrate with the team. That was one of the best days ever to finally chalk up another win for this famous club, what a day!
My 1992 season was a disaster; I ran from dummy half in the 1st game of the season at Parramatta Stadium, Brett Kenny tackled me, my leg broke & my season was over.
6. How have you kept busy post-footy? Are you still involved in the game in some capacity?
After footy, I ran a tree lopping business for about 10 years and I've been a wharfie at Port Botany for the last 12 years.
I've got about 500 work mates here & there's also a full squad of ex players that includes Darren Brown, Corey Hughes & David 'Cement' Gillespie.
I have 2 daughters that never played league so I didn't get involved in coaching or anything but I still follow the game closely. The 2018 Rabbitohs are playing some great footy, they are just enjoyable to watch.
The backs are moving the ball beautifully & the forwards are laying a solid platform through the middle. Sutto has wound back the clock & the Burgess boys are playing awesome footy.
Damien Cook has added another dimension with his speed at dummy half & young Cameron Murray is a star on the rise.
Anthony Seibold is doing all the right things & I hear he's a terrific bloke as well, what a coach!
7. If you could give any advice to budding rugby league players, what would it be?
Practice hard on all your skills. Develop a decent fend to swat away defenders & perfect your tackling technique, there's nothing better than grassing your opponent in a cover tackle.
Enjoy your footy, look after yourself & eat healthy. Work extra hard, train your heart out & don't take any shortcuts, give it everything you've got while you can because commitment reaps rewards.
Don't just rely on your ability because your time in the game will come & go fast so make the most of it.