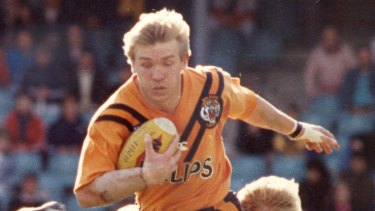 One of the greatest ever players to don the Balmain Tigers jersey, Garry Jack has long been a fan favourite of the diehards. 
Speaking with Westslife Podcast, Garry Jack opened up on his playing career, what the club meant to him and what life has held post-footy.
Jack wears his heart on his sleeve when it comes to the Tigers and he gave his thoughts on where the current team is at.
"I think given that where things were at last year with Ivan Cleary, when I found out he was leaving, I was disappointed," said Jack.
"When I found out we were getting Maguire [Michael] to come on board, I thought that was a better fit for the club."
Looking to improve on previous years, Jack believes the Tigers can push for higher honours.
"They've got a good squad, I think he [Maguire] has a great brain for picking out talent and he will develop these players," said Jack.
Jack's rugby league career began far away from the black and white of the Magpies realm in Wollongong.
"I played for Wests Illawarra which is the Red Devils down there from U7's all the way through to first-grade," the Balmain legend continued.
"My father played down there, my grandfather played down there, so I'm from a football family."
Jack played alongside another Balmain legend in Steve 'Blocker' Roach, one of the club's greatest ever props.
"Blocker [Steve Roach] was the year behind me and we played U17's together," Jack said.
"We went to the same high school, Blocker and I.
"He went to Balmain as a junior and I stayed at Wests Illawarra."
It was then a catch-up following a touch footy game that would change the trajectory of Jack's rugby league career forever.
"I was offered a trial and a chance to get fit and so I drove up there every day," Jack said, excited at the opportunity.
"Garry Dowling, Johnny Ribot, Terry Lamb, Allan Neale were all there.
"We all trained with the first-grade squad; I was just one of the young fellas coming through.
"I played the trials and Roy Masters pulled me aside and wanted to offer me a contract."
The decision at the time for a young Jack was not easy but the chance in Sydney was too hard to give up.
"My dad was with me and I said I didn't want to come to Sydney, I wanted to stay in Wollongong," Jack said, telling the story.
"He said it was a great opportunity to come up and I think you're going to end up as a five-eighth, not as a fullback.
"That's what his advice to me was. That was good advice from Roy, hehe."
The move to Wests led to a move to Balmain where Jack truly hit his stride as a player.
"There were about four clubs interested in me [Canberra, Eastern Suburbs, Illawarra and Balmain]," said Jack of the interest in him at the time.
"I suppose the biggest factor was that Keith Barnes came to my house in Sydney and he was good mates with the recruitment officer back in those days.
"We had a chat for three hours and he told me wanted a fullback for the future.
"They had Wayne Pearce coming through, a guy called Benny Elias coming through.
"I took a couple of weeks to decide but then I called him back and said I'd love to join the club, so I did."
Although Jack's Balmain side made two grand finals and lost both, the former fullback has watched them back since and forgot just how good they were.
"We actually did sit together once at Fox Studios in 2005," Jack reminisced.
"We sat in a nice big booth there and watched the game. I'd never seen the game from 89 in 2005.
"My recollection of it after watching was what a great game it actually was! I was just so disappointed that we had lost."
Jack also played for both the Sheffield Eagles and the Salford Red Devils in England, and opened up on the English game and his experiences there.
"It was a lot of fun. I was there for three years," said Jack.
"I went to Sheffield Eagles in 1992-93 and had a great time over there. They were a young team and we made the final of the Yorkshire Cup."
"The following year I was approached by Salford as a player-coach for a year and then coach the next year.
"I loved being a full-time professional and loved my time as coach for Salford."
That experience as player-coach at Salford fuelled Jack's desire to look at long-term coaching back in Australia.
"I loved coaching at Salford and a personal goal of mine was to try and come back here and coach in Australia," Jack said.
When his time in England came to an end, Jack still felt fit enough to play on.
As luck would have it, he would rejoin the Balmain side alongside former team-mate Ellery Hanley.
"I feel really good," Jack said, who was 34 at the time.
"I trained hard for six weeks, spoke to the club and when I got back to Australia, the club and Wayne Pearce gave me an opportunity.
"I played 11 games to end the year and I like to think I helped them there to steady the ship."
Balmain meant so much to Jack and he enjoyed his second stint as much as his first.
"I was very fortunate; Balmain fans gave me a great reception when  I left in 92," he said.
"I loved all my time at Balmain. I just loved the club, the joint and made plenty of great mates and memories from that era.
As most players do, you learn that life is not all about footy and that pre-planning for your life post retirement is more important than ever.
"For the last 12 months, I've worked for the TAB," said Jack.
"The last six months, that has led me into the Digital Acquisitions which means when you go to a hotel or club and you're on your phone, I help sign people up on the TAB app.
"I have a lot of younger people and students going around to hotels and that sort of stuff.
"I'm responsible for their training."
To listen to the full Westslife podcast, click the link and follow the Westslife podcast on Twitter (@WestsLifePod).
Tigers fans and rugby league fans in general, if you do not do so already, you can also follow Garry Jack on twitter (@jimmyjack244).