NEW Zealand international Bryson Goodwin admitted that he didn't really know what to expect when he made the move to Warrington at the start of last year.
A proposed move to Leigh fell through after the Centurions lost their place in Super League before the centre was snapped up by the Wolves.
But after spending the best part of two years in the town, Goodwin will say goodbye at the end of the year to re-join the South Sydney Rabbitohs.
And after experiencing some real highs and lows during his spell in England, he will always reflect fondly on his time at The Wire.
"I've loved my time in Warrington, especially making the two finals last year, and I've got the Challenge Cup final and the back end of the Super League season to look forward to," said Goodwin.
"I didn't really know what to expect when I first came over, but the club and the people of Warrington have made it really easy to fit in.
"All I can do is go out there and try my best, so if the fans are happy with me then it must mean I'm doing something right."
A definite blot on his time at the club though was last season's Challenge Cup final defeat, which is something Goodwin is looking to put right this week.
"A lot of people wrote Catalans off going into the game, but they played really well and managed to get the win," he continued.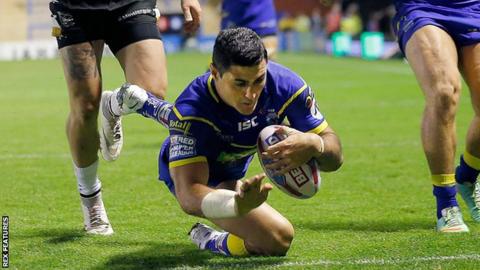 "We didn't play our best game that day, but hopefully we can put in a better performance this year and we know as a team that if we play good, we win."
"Nobody ever wants to feel that losing feeling and plenty of the boys in this team have experienced losses in big games, so we need to get that feeling out of our club and start to build a winning culture."
Away from rugby though, Goodwin insists he has thoroughly enjoyed living in England, and there are certain parts of British life he will sorely miss.
"One of the biggest things I'll miss are these cookies from Tesco that I probably eat too many of but they're just unreal," he admitted.
"Aside from that, the biggest thing will be not having Europe on my doorstep, as I've got the travel bug and try and jet off somewhere new whenever I get the chance.
"Since I've been here, I've visited Iceland, the French Alps, Spain, Italy and a heap of other places, so it's been great to experience other parts of the world.
"In Australia, you can't really go anywhere unless you go for a few weeks because of the distance, so having Europe so close has been a highlight."
Of course, living in England and Warrington in particular does have its downsides, and there are some things Goodwin is happy to be leaving behind.
"The swing bridges are like something from the Stone Age and they really wind me up, so I definitely won't miss them," he joked.
"I find it outrageous that you have to pay for a TV licence over here and I hardly watched any TV last year, so I refused to do pay for one this year and I just watch Netflix in my spare time.
"The weather is obviously not great as its supposed to be summer and it's rained for the last four weeks, but I will miss the cold Christmases as we don't get them back home.
"But living near the beach in Sydney is a pretty good lifestyle and the kids will be close to the family and all of their cousins.
"I will be sad to leave at the end of the season and I'll miss the people of Warrington, my teammates and just being a part of the town in general, but it was the right decision in the end for me and the family."