After the news that Sonny Bill Williams is set to make his return to rugby league with newly promoted Toronto Wolfpack, we look at ten other New Zealand internationals who have made their mark in the UK's premier competition.
These 10 Kiwi internationals are:
Dean Bell
One of rugby league's biggest characters was an integral member of a Wigan side that utterly dominated the rugby league scene in the UK throughout the mid-1980s and early 1990s.
The Warriors unprecedented run of eight consecutive Challenge Cup victories and seven RFL Championships remains unmatched today.
It was Bell who proved to be one of the sides' biggest threats offensively and defensively.
As tough in defence as he was electric with the ball in his hand, the former New Zealand international went on to make 253 appearances.
In that time, he went on to score 96 tries for the formidable Lancashire outfit, while also playing for both Carlisle and Leeds during hi time in England.
---
Frano Botica
Between 1990 and 1995, Botica made a reputation as one of the most prolific points scorers of that period or indeed any.
He was another member of the dominant Wigan side that ran rampant in the early to mid-1990s.
In only a short amount of time, the former stand-off became the quickest British-based player to go past 1000 points after achieving the feat in only his 93rd game.
---
Thomas Leuluai
An iron man of rugby league who can undoubtedly be considered as one of the finest players to play in Super League.
The 34-year-old turned out for London Broncos as well as Wigan in two separate stints.
Once between 2007 and 2012 and now from 2017 to the present day.
In both stints with the Cherry and Whites, Leuluai was a prime catalyst going forward as well as being as hard working on the defensive side of the ball.
---
Brent Webb
Somewhat of a fan favourite amongst the Leeds faithful between 2007 and 2012.
After making the move over from the New Zealand Warriors, Webb was able to translate his fine attacking play into the British game.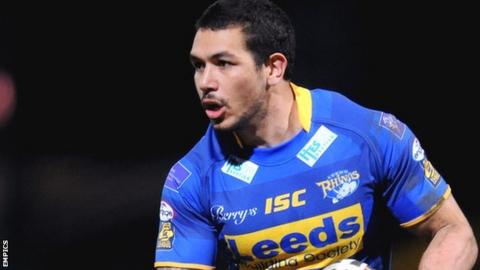 He quickly became a pivotal member of a Rhinos side that was starting to become one of the league's most standout teams.
In his six seasons with the Rhinos, he was a big factor in five Super League titles, made 162 appearances and scored 91 tries.
---
Lesley Vainikolo
The 'Volcano' was the ultimate try scoring machine during the early 2000s and showcased to be one of the notable faces and stars in Super League during the early part of the 21st century.
The powerhouse winger was part of a truly exciting Bradford Bulls team.
After impressing with Canberra, Vainikolo made the move over to the Super League in 2002.
In turn, he became one of the league's most unstoppable forces.
By 2007, he notched 147 tries in 152 appearances and broke several try scoring records along the way.
---
Robbie Hunter Paul
When you think Bradford Bulls during the 1990s and early 2000s, then Robbie Paul may just be one of the first names that springs to mind.
There is certainly an argument to be made that Paul is one of the greatest players to ever put on a Bulls shirt as time and time again, he would put forth a big time performance.
After arriving in West Yorkshire in 1994, Paul went on to be one of Bradford's biggest threats with his try scoring ability and creativity at the halfback position second to none.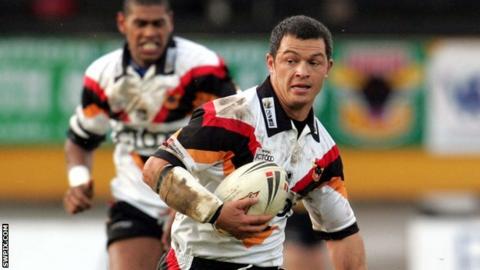 By the end of his 12-year stint with Bradford, he had claimed four Super League titles, two Challenge Cups and two World Club Challenges.
This forever etched his name into rugby league folklore as he was selected as part of Bradford Bulls' 'team of the century' in 2007.
The legendary halfback went on to also play for Huddersfield, Salford and Leigh before retiring in 2011.
---
Henry Paul
The older Paul brother is easily regarded as one of Super League's greatest goal kickers who with both Wigan and Bradford quickly made an impact from the stand off position.
After arriving in England back in 1993, Paul turned out for Wakefield before making the move over to Wigan.
It was here that he quickly established himself as an elite talent before moving to Bradford with his dynamism offensively and accuracy with the boot becoming his most noteworthy traits.
Over the course of both his stints with Wigan and Bradford, he claimed three Super League titles, two RFL Championships and three Challenge Cups.
He broke goal kicking and points scoring records along the way.
---
Ali Lauiti'iti
As a big and powerful as he was slick with the ball in his hand.
The former forward was a huge asset to a talented Leeds side that won five Super League crowns between 2004 and 2011.
His great ball handling and hard running proved to be a big factor in the Rhinos back row.
---
Shontayne Hape
The star centre's inspiring partnership with Vainikolo is seen as one of game's very best.
Between 2003 and 2007, they put plenty of opponents to the sword by showing a great deal of power, creativity and try scoring prowess.
In his six seasons with the Bulls, he became an all-out fan favourite scoring 86 tries in over 130 appearances as well as being named at centre in the sides' 'Team of the Century'.
---
Francis Meli
Alongside the likes of Ade Gardner, Meli was a prolific try scorer for a St. Helens side that won the elusive 'treble' in 2006.
He also claimed three consecutive Challenge Cup victories between 2006 and 2008.
The offensive powerhouse went on to score 156 tries in 241 appearances for the Saints.
---