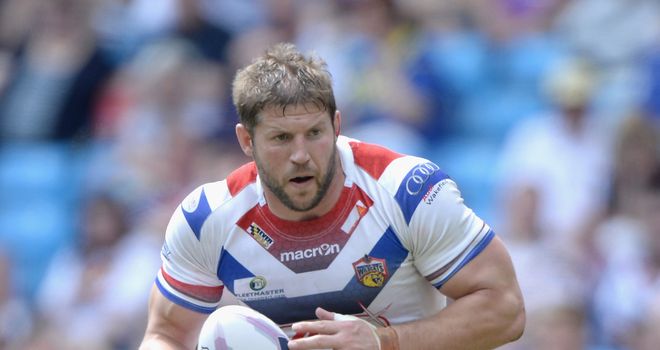 Since signing with the Wakefield Wildcats from the Bradford Bulls, Nick Scruton has impressed those at the club and as a result, the club has rewarded him with a new 2-year deal.
Scruton, 29, has played in a total of 189 games and has both grand final wins and Challenge Cup wins to his name.
Scruton is also a former English international and he wants to help the Wildcats make an impact in 2015 and beyond.
"I'm really happy," said Scruton after signing his new deal.
"From the moment I got here, I knew it was a club that I wanted to spend the next couple of years at as long as everything was going well on the field and everything has. I'm chuffed to bits to have another two years and hopefully we can move forward as a team and start being considered play-off candidates instead of relegation battlers.
"The top eight over the next couple of years is a big incentive, it's where everyone wants to be. With the players we've got and this run we've been on it's completely within our grasp and it's something that everyone is working towards.
Knowing that he can get better, Scruton is pleased to have a new deal under his belt and is keen to make the most of the opportunity afforded to him.
"I didn't think it (the transfer from Bradford) would have affected my game as much as it did but those first few weeks I was garbage and some of the fans didn't hesitate in telling me," said Scruton.
"I've not had that for a long time so I'm just glad I'm starting to show people what I'm capable of and why Wakefield signed me, and I've been rewarded with a two-year deal. As a prop forward at my age, hopefully I'll be playing my best rugby for Wakefield Wildcats."
As Wakefield build their squad for 2015, coach James Webster is pleased to have re-signed a quality prop like Scruton.
"It's great news that Nick has extended his stay here at the club. Nick has been tremendous for us both on and off the field, adds a lot of experience and is a very influential player for us in the middle of the park," said Webster.
"He was somebody that I wanted to tie down as soon as possible and for a player of Nick's stature to commit to Wakefield is a fantastic boost for where we want to go."