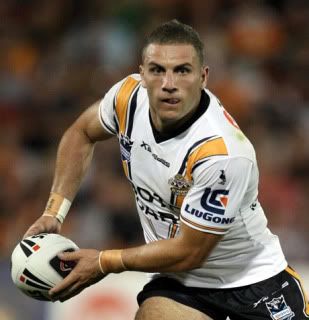 It was a game that went down to the wire, with NSW hooker hopeful Robbie Farah slotting home the winning field goal in golden point, on the back of Gold Coast Titans error in their own half.
It was the Gold Coast Titans who were clinging on to the narrowest of leads for the entire game, before a Benji Marshall penalty goal right before the full-time siren, sent the game to golden point.
Despite the win, Farah said that it was not a pretty win for the club, in front of just over 14,000 fans.
"But that's three wins in a row now and we have a bye next weekend," he said.
"We're back into the competition."
With the winning field goal arriving from one of their key players, Tigers five-eighth Benji Marshall said that he and Farah had been practising last-minute field goals at training all week.
"The coach came up with the idea that we practice that two pass out to Farah and we set it up perfectly how we practiced it," said the Kiwi international.
"I didn't think it was going to work."
Whilst Marshall did not advocate Farah for NSW as such, to avoid bias – he praised Farah's performance after the game.
"Robbie really stood up tonight. He was on his hands and knees just before his big charge down that led to the penalty that locked the game up," Marshall said.
"He brought us home, he won the game for us.
"When the game is on the line, champions stand up and he stood up tonight."
With the error from Jordan Rankin in golden point that led to the Tigers winning field goal – Titans coach John Cartwright said that the loss was not Rankin's fault.
"It was sad we didn't put enough pressure on Farah when he was in front of the posts," said Cartwright.