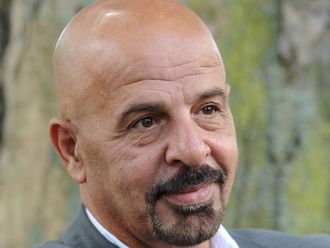 All teams face some nervous waits and problems in their time, and with Salford, who had a court hearing adjourned until the 4th of February, it gave the club time to find a new investment to keep the club above water.
Enter Dr. Marwan Koukash, a Kuwaiti-born mulit-million dollar businessman and a St Helens-based racehorse owner, as the man who plans to transform the Reds previous misfortunes, to create a strong, healthy club.
It was after Nigel Wood got in touch with him about the opportunity with Salford, that got Koukash intrigued – prompting him to outline his ambitions for the Salford club.
"Nigel [Nigel Wood] rang me up and introduced Salford to me, and I'm very glad to be involved," said Koukash.
"What is the bigger deal, is creating a team that could compete and win trophies, for a number of years to come."
With several problems facing the club in several facets, the key for Koukash, is to go about rectifying these problems and introducing the techniques to overcome them.
"The problem we faced here or the problem Salford would face, is that it has no home – it's a tenant in a stadium," said Koukash.
"The income that clubs generate is far less than the expenditure – that's provided you want to spend the full cabin and compete at the highest level."
"So rugby or Salford, must look at ways of generating extra income from other commercial ventures. Here, around this stadium, there are many opportunities for it to develop such ventures."
With the opportunity present to expand and get involved with more commercial ventures, Koukash sees a world of good and improvement for the Salford club, if they immerse themselves among these ventures.
"Part of the deal we're looking at, is for Salford to have a share or an interest in the stadium, as well as being able to develop some of the surrounding land," said Koukash.
"Not just for commercial activities, but also to develop some facilities for the players as well, such as – we talked about high performance gym, we talked about possibly a hostel for the young players, the academy players."
"We need to look after such young ones, so that's why the deal is taking longer to arrange than was expected."
One of Koukash's main focuses, is the introduction of extra development processes and techniques to improve Salford across the board, as well as generating additional income for the club as a whole.
"By the way, when we talk about a development, we're talking about a development for the club that will generate or inject extra cash to its income, for many years to come," said Koukash.
"Like I said earlier, Salford and many other clubs need that extra income from outside the league and unless you have a sugar daddy [which I'm not] – but I am someone who will facilitate that income, and hopefully we can achieve it."
With negotiations still ongoing to keep the Salford club afloat, there are many who are watching with keen interest as to how the situation will gradually develop, over the course of the negotiations.
"It is very tough negotiations and at the end of the day, everybody knows this is about Salford, about the Reds," said Koukash.
"It's not about us, and everybody is interested in the future of Salford. It's a matter of coming up with the right deal to suit all."
Tough times can often result in people leaving, especially in cases like these, but Koukash is pleased that those involved made the decision to stick with the club during the tough times.
"I just wanted to be grateful before the game. I said before to him how grateful I was, that they stuck around and they've not walked from the Reds," said Koukash.
"It must have been horrific and very, very difficult, as they could have easily walked away. The fact that they stuck by us and stayed, and you could see their determination there."
"They were young boys out there, then I guess big men. But they fought and that's all that I expect from them, and I expect a lot of improvement."
With the opportunity present to potentially buy new recruits before the season starts, Koukash is looking forward to that possibility, but given that he is not yet the Chairman of the club, he knows he has to tread carefully.
"I have to be very careful in the way that I answer this, because I'm still not the Chairman of the club," says Koukash.
"By going and approaching other players at this stage, is a bit dodgy, to say the least. I had meetings with Phil, Phil had meetings with Graham and we have identified a number of players and I don't know if it's wrong of me to say this, although we haven't signed the dotted line, we have been speaking to a number of players."
"Players that will bring the crowd in as well and players who could win matches. I believe they could blend very well with the young players who we saw out there today."
As the process continues, Koukash admits that whilst he may not be the most knowledgeable about rugby league practices, he believes his past experiences in business can help him and the club – as he works with Graham Lowe and all the staff involved, to ensure the club's longevity.
"I'm not going to sit and here and pretend to tell you that I'm an expert in rugby league, but as a person, I have a good ability to judge people by meeting them," says Koukash.
"I've met Phil on a couple of occasions and he comes across as a very, very nice guy, and I could tell everybody here that Graham is not here to replace Phil – Graham is here to work with Phil and assist Phil to recruit the right players."
"We have full confidence in Phil and I think he will do a wonderful job. Once the pressure is over, I think Phil could sit down and start concentrating and motivating the players and recruiting the right players – obviously we do need to recruit some."