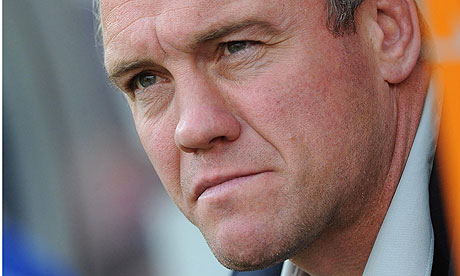 On the back of a successful Super League season in 2012, Brian McDermott has committed his future to the club to continue in that role, ahead of the start of the 2013 season.
McDermott, who joined the Rhinos in late 2010, signed an initial 3-year contract with the club, that has seen Leeds win two successive Super League titles, back to back Challenge Cup finals and a win in the World Club Championship last year against NRL side, the Manly Sea Eagles.
This contract is different to most, however, with McDermott and the club agreeing to an ongoing contract of employment every year, rather than committing to or handing out a deal that is on a long-term basis.
Gary Hetherington, the Rhinos Chief Executive, said that the club is excited at what McDermott has achieved at the club in the past, and they believe that they have the right man for the job.
"This is recognition of Brian's ability, of what he's achieved so far and the diverse role he has within the club," said Hetherington.
"Brian is a bit different to many other coaches. Not only is he focussed on helping his first team players reach their full potential and achieve success as a team, he is also very involved in our youth development programme and beneath that in supporting the Leeds Rugby Foundation's 3-year plan to further develop Rugby League in the City. Brian and his coaching staff will lead the new coach education programme on a voluntary basis and this will be a big help to local schools and community clubs.
"The Head Coach role of a Super League club is a very demanding one and a club like Leeds Rhinos aspires for the best. In Brian McDermott, we have that man," added Hetherington.
As it stands, McDermott is a part of history, as the only English coach to guide a team to successive Super League titles, as he looks forward to the season and future ahead for the club, the team and himself.
"This is a very exciting time to be part of the Leeds Rhinos club. We have enjoyed a period of unparalleled success in the club's history with an extraordinary group of players. We will kick off the new season with a strong squad and looking to give our absolute best in every game to try and challenge for all the honours once again.
"However, in the years ahead lies an exciting opportunity to build a transition between this golden era and potentially the next one. Whilst that will be a sizeable challenge, and one that has eluded clubs like Bradford and Wigan in recent decades, it is one we are confident we have the building blocks in place to give us the best possibility of achieving.
"I think the work that Gary Hetherington and the Leeds Rugby Foundation have done to develop a three year plan for our game and the City of Leeds is a tremendous achievement and one that will not only benefit our sport, but also the people of Leeds and I am excited to be part of that also," added McDermott.
Kevin Sinfield, the captain of the Rhinos side, is just as thrilled at the announcement to keep McDermott on board, saying he is the best coach that he has ever worked with.
"I have said on many occasions that Brian McDermott is the best coach I have ever worked with," said Sinfield.
"He has given this group so much in the last two years and it is great news that he has agreed this new deal. Having worked with many coaches for club and country, Brian is able to marry together the best elements of all of them to create an approach that is honest, insightful and most importantly tactically and technically astute to help you develop as a player and fulfil your potential."