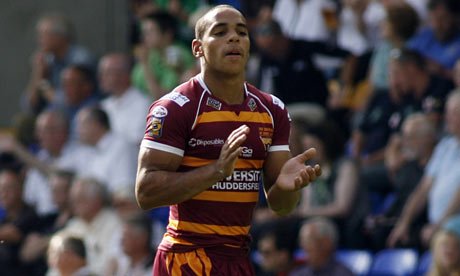 He will take the win any day of the week given the nature of it, but despite his side winning 40-4 against St Helens, Huddersfield Giants coach Paul Anderson believes his side can get even better and that there is room for improvement moving forward.
It was centre Leroy Cudjoe who played exceptionally well, bagging a double in the Giants win – as the Giants won away to the Saints for the first time since 1978.
"We are in round one of 27 so we aren't going to get carried away," Anderson said.
"We're obviously happy with the result and happy with two points, (happy) to start the year with a win because we can keep building.
"There were some areas we were good at, some areas we were not so good at. There is still a hell of a lot of improvement in us as well.
"I'm reasonably satisfied with where we are at. We controlled the ball a fair bit. We are a bit old-fashioned really; we've got plenty of big people hitting the ball at speed and that can create problems for most teams."
For the Saints, Australian coach Nathan Brown said that the club just could not deal with the physicality of the Giants side, imploring that his side have to improve, and fast.
"From game to game in the friendlies, we have shown improvement and we have trained to a standard we were happy with this week," Brown said.
"But at the end of the day, to get physically dominated like we did… and off the back of that Brough in brutal in how he kicks the ball and he was constantly pinning us back.
"The physical part of the game is where it is won and lost and if a side wins that as much as the Giants did, then you can have a lot of issues. But we will live to fight another day.
"I have no issue with our squad and coming into the year, I knew Huddersfield would have a good year. We didn't get it right and I thought we would do better than that today. We will look at what we are trying to do and get better.
"Of course I want to win every game and we expected to do better and put in a better showing, but it is two points we didn't get and there will be two points on offer next week. We didn't put enough pressure on their players; they were better than us physically and did well.
"We will need to bounce back."