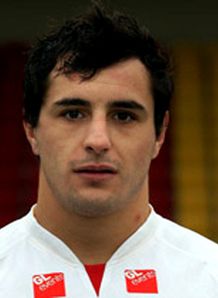 Coaches around the world get fired up quite often, particularly when there is a decision that is suspect or goes against them – and for Salford coach Phil Veivers, his anger came after a late hit from Julian Bousquet on Salford's little halfback, Theo Fages.
The game, which finished 40-6 in favour of the Catalans Dragons, as the French-based Super League club stormed home to victory, despite their numerical disadvantage after seeing Bousquet sent off for the late hit.
"I was disappointed with the cheap shot on the little half-back who got took out by the big number 21 (Bousquet), it was a very cheap shot," said Veivers.
"I thought it was outlawed in this game and the referee dealt with it correctly."
"It had a big bearing on the game for us, having four forwards on the bench detracted from the way we wanted to play.
"After that I cannot subtract from the effort the players put in, the lack of game awareness and game sense was overwhelming – five times we kicked off the sideline."
Overall, Veivers was also not impressed, lamenting his side for committing the same errors they did last week, as he remains hopeful that the message eventually sinks in.
"It's two weeks in a row that we're talking about the same mistakes, it's got to sink in shortly," he added.
"Possibly that is down to inexperience within the squad, but you cannot excuse the amount of dropped balls we came up with tonight, the amount of cheap penalties we conceded and how we finished our sets, especially in the second half."
The Dragons showed a lot of character according to coach Laurent Frayssinous, who has now won his first two games in charge of the club – after going down to 12 men in the 3rd minute of the game, following Bousquet's late hit.
"It was a good win for us, and I'm especially pleased with the defensive effort of the guys," he said.
"For us to only concede one try with having a man less for most of the game speaks volumes about the character of the team."
Frayssinous also commented on the Bousquet incident, and knows that the club will not have to tell him anything, as he would know that what he did was late and wrong.
"We won't tell Julian what he has done is wrong. I don't think it is a late challenge, but just perhaps the timing is out a little from Julian," said Frayssinous.