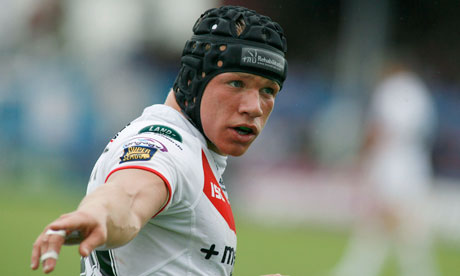 At times, coaches are sometimes unwilling to praise or criticise players for their performance – but St Helens coach Nathan Brown had no problems praising stand-in fullback Jonny Lomax, who scored 3 tries for the Saints as they romped to victory, winning 36-10.
It was only because of an injury to skipper Paul Wellens, that resulted in Lomax moving to the back – an opportunity he took with open arms, thus receiving immense praise from Australian coach Nathan Brown.
"Jonny certainly played well," said Brown of 22-year-old Lomax.
"The best modern-day full-backs are half-backs. He's athletic, he can pass and kick and see the game well. I don't think it was a genius move.
"Jon (Wilkin) has played in the halves a lot of times for St Helens over the years. He's a very controlled player and he helps us play with a bit of composure.
Despite the performance, however, Brown knows that there is always room for improvement – acknowledging that since Rd 1, his side has gotten better overall.
"We're improving. From round one to four, we have definitely got better.
"I thought in the first 40 minutes we played with good discipline and control. We let ourselves down in the second half but we did things more consistently for longer today.
"I'm sure we'll improve again. It will be a big challenge next Friday. Leeds are a good side and they did the competition a good service last night with the way they performed."
On the flip side, for the Bulls, they started the game quite poorly and just could not get back into the contest – though they did manage to score two consolation tries towards the end.
"We had very little possession in the first half an hour," said Bulls coach Francis Cummins.
"They got a good roll-on and we spent too much time near our own goal-line.
"You can't afford to play against the main teams without the ball. At the back end of the first half we asked some questions. We opened them up but couldn't finish off.
"I was pleased with the fightback and in the second half we were able to trade sets but we need more quality than that to beat St Helens."