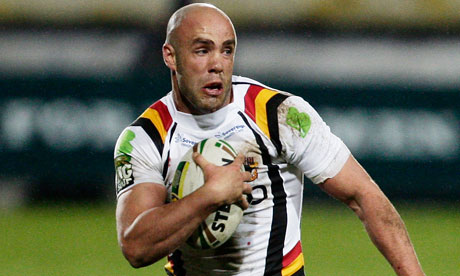 It was all about Adrian Purtell's return from a heart attack last year that had everyone talking and he made a successful return, as he helped the Bradford side to a comfortable 34-12 win over Hull KR.
Coming on in the second half to thunderous applause in his first game back since suffering a heart attack on the field back in May, Purtell was just glad to be back on the footy field again, and looks forward to being a key part of the Bulls side moving forward.
"There were times at the start when it felt like I might never get back but I've always had this goal to get back playing.
"I'm now glad we've got this game out of the way so we can focus on Bradford as a team, as we are playing really well at the moment.
"We can now put my misfortune 10 months ago behind us.
"I felt fine – the coaching staff have got me in really good shape – although the contact I've only been doing this week so that was a bit out."
The loss keeps the Rovers in eighth spot, as Hull KR coach Craig Sandercock admits some of the blame for the loss should be aimed at him.
"It's possibly my fault as we had three players who were ill and didn't train during the week, and some who were a bit busted and I made a decision to play them and they weren't at their best.
"I need to take the blame for playing those boys and you saw our performance in the first half just wasn't good enough.
"We gave away too many penalties and made too many errors and Bradford are a good side."