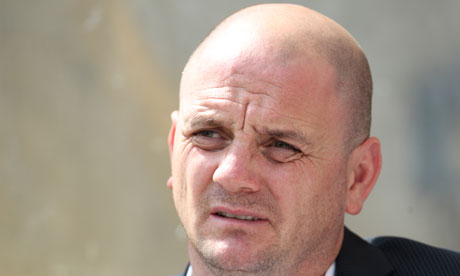 There was speculation surrounding his future and after denying that any of it was accurate, Warrington Wolves coach Tony Smith has opted to stay on board with the club.
Re-signing as coach until November 2016, Smith will be joined by former Wakefield Wildcats Richard Agar, who will join the Wolves as an assistant.
Agar comes with a wealth of experience, having coached at the Featherstone Rovers, the Dewsbury Rams, Hull FC, the Widnes Vikings and the Wakefield Wildcats. He is currently the French national coach.
As for Smith, he is excited to be staying with the Warrington club and although there was interest by some NRL clubs, he has never been tempted to leave his current club.
"Once again, I am delighted to have extended my stay with this great club," said Smith.
"It enables us to continue to build and develop and I am excited about the transition of our team going into the future. We have some very exciting prospects both within our ranks at present and the junior products that we have coming through.
Although it's been quite flattering to be linked with the NRL, I have never been tempted to leave the position I currently hold with this fantastic club."
There will be other changes, though, with back-room staff Willie Poching and Richard Marshall both departing, as Smith was quick to praise their efforts during their time in respective roles.
"I'd personally like to thank both Willie and Richard for what they have given to the club over the years and for the support they have given to me on both a personal and professional level," said Smith.
"I look forward to watching them progress in their coaching careers in the future. They're fully committed to the club for the remainder of the season and will be doing everything within their power to help the Wolves have another successful season."
With Smith to move into the Head of Coaching and Rugby role, Agar will act as the first-team coach from 2015 and the veteran coach has belief and respect for Agar.
"Richard (Agar) and I have had a great respect for one another for a number of years; having first met Richard when I was assistant coach at Parramatta," said Smith.
"I've been a big admirer of his coaching at each of the teams he has been at – often under testing circumstances – and I recognise and appreciate the type of rugby he encourages which fits our Warrington style of play.
When Richard became available, we were in the market for a first team coach for the 2015 season and he became an ideal candidate."
As for Agar himself, the new opportunity is one that he looks forward to and working under Smith, he knows that his overall coaching profile will only increase as he learns new things.
"While it was a difficult decision to leave Wakefield, naturally I am thrilled to get an opportunity to work at Warrington Wolves," said Agar.
"Working at one of the best clubs in the game and under Tony Smith, I feel I can only enhance my development as a coach. I am thoroughly looking forward to contributing to what is already a successful team and organisation."