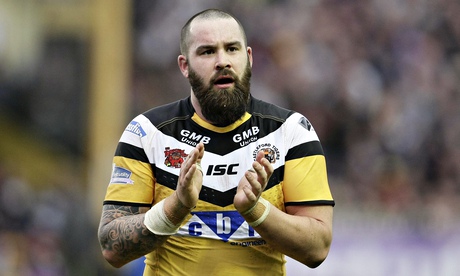 It is always hard to leave a club that is a part of you and one that you have been associated with for so long, but that is what Castleford Tigers prop Craig Huby has done.
Having played for the Tigers for 11 years, his tenure with the club is now over, with the veteran prop signing with the Huddersfield Giants for the nex 4 years.
At 28, Huby started his career when he was young and although he is sad to move on from the club he loves, he is excited with the new challenge.
"I have had a wonderful time at Castleford with this year being an obvious highlight and it is with some sadness that I move on," Huby said.
"However, I decided that a fresh start and a new challenge would reinvigorate me and the club have known for some time that I would be moving on.
"The supporters have always been superb with me and I thank them and the players and coaches I have worked with."
With Castleford still performing so well this year with the finals around the corner, Huby is committed to the cause until the end of the season.
"This year with (coach) Daryl (Powell) will forever be in my memory and I think we still have a great opportunity here in the coming weeks," said Huby.
"That's my sole focus but I wanted the news to come out so that I can concentrate on the rest of the season with Cas then look forward to next year at the Giants."
Firing on all cylinders from an individual perspective, Giants coach Paul Andersona admits that Huby is a player he has had his eye on for some time.
"Craig is having a stellar season and is a player I have long admired," said Anderson.
"His qualities are there for all to see and he has been a tower of strength for the Castleford club which he has served with such distinction over many years.
"He will bring new attributes to our forward pack which will complement many of the players around him and, when I heard he was looking for a fresh challenge, I made him my number one target for next season.
"I am delighted that he has chosen our club ahead of many others and we look forward to welcoming him for pre-season training in November."