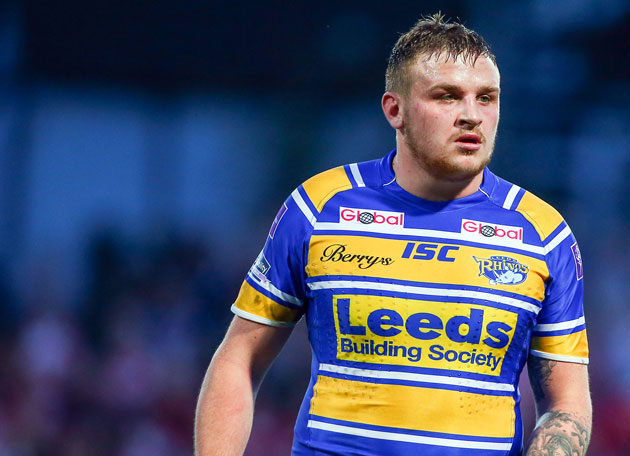 Fast establishing himself as a quality front-rower in the Leeds team on the back of a great breakthrough season, Brad Singleton has been rewarded for it all with a new four year contract.
With 40 games to his name so far since his debut in 2011, Singleton has come along in leaps and bounds, with the club hopeful that he is the man to emulate the successes of the great Jamie Peacock.
For Singleton, who was born in Barrow, it was a huge year for him and heading into 2015, he is pleased to have his future sorted and excited for the season ahead.
"I think this will be a big year for me and I am happy to get my signature down on new contract," said Singleton.
"The long term contract gives me peace of mind and security, especially to be at such a big club like Leeds and I am over the moon to have signed it."
Knowing how valuable the experience has been for him so far, Singleton knows that the key for him heading into next year is confidence and belief in his own game.
I played over 20 games in Super League last season and the benefit of that and being involved week in, week out is massive for me. I am going to take that forward with me and I am feeling confident going into next season," said Singleton.
Pre-season has started well and I am trying to get myself in the best possible shape I can during the next few months so I can hit the ground running in February."
With Peacock and Kylie Leuluai both moving on, Singleton feels that it is his time to become a senior prop among the team, something he relishes.
"From an outsider's point of view, it is there for me. I have been here long enough and this is what I always wanted so it is up to me to grab this opportunity with both hands," said Singleton.
"It is an exciting time to be part of the squad. I heard Gary Hetherington talking about it a few weeks back, that we have a great drive in the squad for 2015.
The experienced players want to show they can still do it and the young guys want to show they are ready to step up into that role at the Rhinos, we want to make our own history and carry on the great history that the golden generation have created.
That makes us a very hungry bunch and that has been evident from training so far."
For the coach, he has nothing but faith in Singleton and believes the talented youngster will only get better as he gets older.
"Brad has been around the first team for a number of years now but you can be guilty of forgetting that he has only just turned 22," said Leeds coach, Brian McDermott.
"This season is a great opportunity for him to kick on with his career and show his worth to the squad. He certainly has the abilities to succeed and now, with a long term contract, hopefully he has the confidence to put that into practise and be a key part of the team next season."