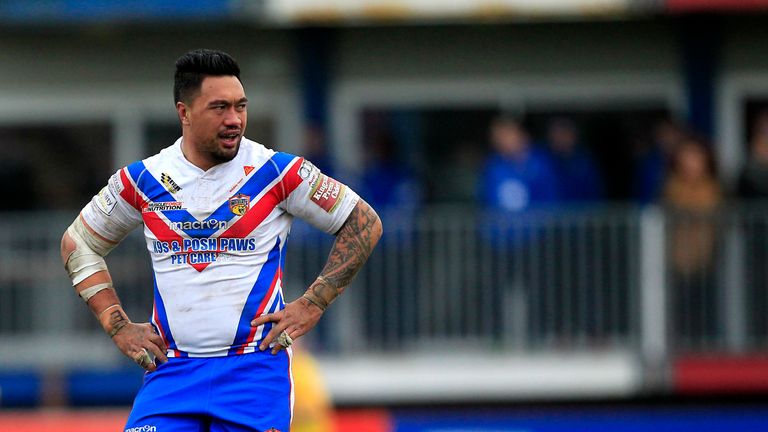 Making the most of his opportunity at the Wakefield Wildcats, Tinirau Arona has re-signed with Super League side the Wakefield Wildcats, on the back of some good form so far this season.
Joining the club at the start of the 2016 season, the new deal for Arona will see him stay on in 2017 with the option of a further year in 2018.
During two spells with the Sydney Roosters and Cronulla Sharks in the NRL, Arona played over 60 games, as well as representing his country at the 2013 Rugby League World Cup.
Forming a big part of their current team, he has made a seamless transition into the side and the man himself is pleased to be a part of the club and have his future sorted.
"I am very happy, it is good to know that I am secure here for another year and hopefully for a second year too," Arona said.
"It was the right decision for me and my family and we are really happy here at the moment, I am now just looking forward to the rest of the season and the next."
After a tough start to the year, some changes brought about more structure and fluidity and those changes have been embraced and welcomed by Arona.
"I'm enjoying my time playing under Chris Chester, he has brought a lot of structure and confidence to the team and I think this is what we needed," said Arona.
"Earlier on in the season when we were not doing so well, I knew there was only a matter of time before we started to bring some wins together and a lot of credit goes to Chezzy for doing this."
Equally pleased is Chris Chester, who praised the professionalism on and off the field of Arona since his time with the club.
"It's another great signing for the club. I have been really impressed with his professionalism around the club," Chester said.
"He offers a lot both on and off the field and I'm delighted we've been able to extend his current deal, to have a player of his quality at the club for at least another year is great news for everybody."
Club Chairman, Michael Carter, also had his say, praising the re-signing of Arona and highlighting the closeness of the team in that they all want to stay with the club.
"I'm delighted that Tinirau Arona has committed to the Club for at least another year. He is obviously enjoying his time here, and has been an excellent acquisition for Wakefield Trinity," said Carter.
"It also improves the stability of the playing squad year on year, and with further contract renewals ongoing presently, we are probably only looking at a small number of new faces next season instead of the 12/13 that we've had to change for the last 3 years. It shows that Wakefield Trinity is a place players want to be at."