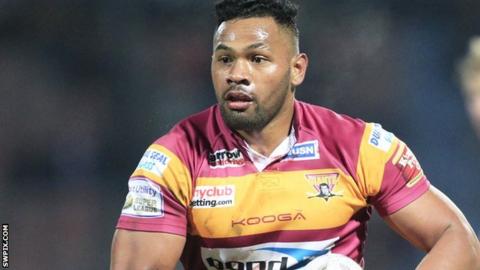 Whilst it may have been a while since he played for the New Zealand Warriors, their fans will no doubt remember him and some would have kept track of his progress at Huddersfield.
On the back of a solid season at the Huddersfield Giants, Ukuma Ta'ai has re-signed with the Claret and Gold until the end of the 2018 season.
Making 114 appearances for the Giants to date, he has scored 33 tries and did not miss a game in 2016 for the club.
Ta'ai is excited at the chance to continue his tenure with the club.
"I am so excited that the club has given me the opportunity to stay," said Ta'ai.
"I love Huddersfield, it's a small town but the fans are fantastic and I am excited to be given the chance to stay here for another two years.
The recent addition of Rick Stone as coach was played a role in his decision to stay.
"Since Rick [Stone] has been here, he has been great for us and I'm looking forward to pre-season so we can achieve more next season and hopefully the fans get behind us and buy a Season Ticket because they have really lifted us this year," added Ta'ai.
The club is also pleased with the re-signing of Ta'ai, and praised both he and the club.
"The Ukuma retention was done some time back but as with other deals done there have been legalities which prevent immediate announcements," said Giants Managing Director, Richard Thewlis.
"As and when we are able to make announcements regarding the 2017 squad, we will do so but the forefront of our thinking is player welfare and supporters have to recognise that and be assured that the club is making every endeavour on the back of the season ticket launch to have the first full year of "The New Stone Age" as a memorable one."