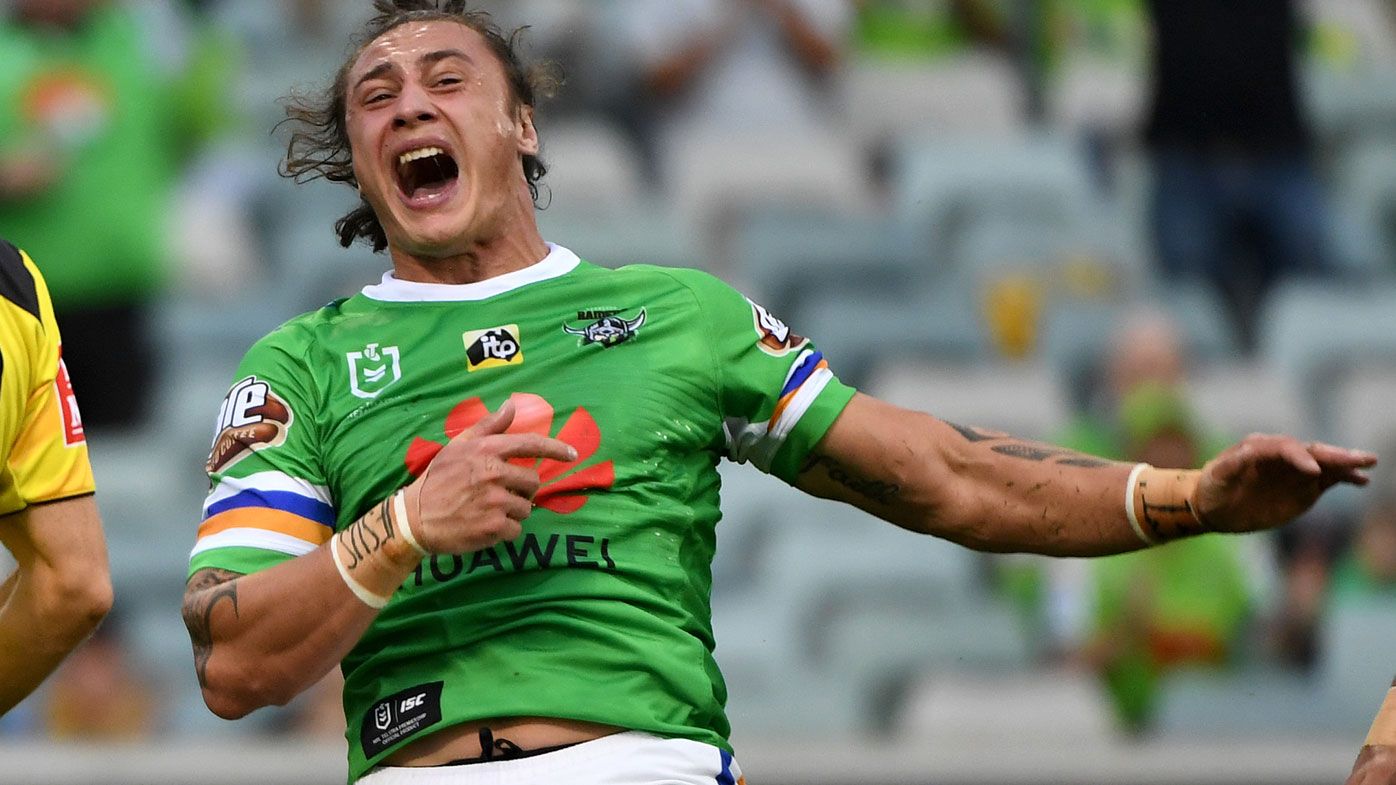 In a hard-fought affair at GIO Stadium, the Canberra Raiders have prevailed 17-10 at home over the Newcastle Knights. 
Led by Charnze Nicholl-Klokstad and John Bateman, the Raiders went with the ebbs and flows of the match to hold on in a tight affair.
Points were on offer for the Raiders early after a Knights error but English recruit Ryan Sutton lost the ball as he tried to ground it.
Several more opportunities ensued as the Raiders had control over the match and dictated the play.
The pressure soon proved too much for the Knights, as Josh Hodgson grubbered ahead and Nicholl-Klokstad was quickest to react.
With both sides guilty of basic errors, the next points would come courtesy of Knights centre Jesse Ramien.
He shrugged off Raiders defenders with ease before making it over the line to score.
With the scores close, the two teams went tit-for-tat but it was the Raiders who would again pull ahead.
This time, Sam Williams fooled the Knights defence with a dummy and he strolled over to score an easy try.
As the heavens opened, the errors flowed, as one would expect.
It was Nicholl-Klokstad again who busted the game wide open, storming through poor Knights defence for his second try.
Down but not out, the Knights worked their way back into the contest as Shaun Kenny-Dowall finished off a good set play.
Looking to seal the game, the Raiders stormed down the field and opted for a one-pointer.
Sam Williams calmly slotted a field goal to ensure a Raiders victory.
There was a sour note, however, with centre Joey Leilua likely to come under review post-game for an elbow to the face of Tim Glasby.
With a second loss on the trot, many are questioning whether the Ponga to five-eighth experiment is worth continuing with.
Knights coach Nathan Brown says he will sit down with his star player, and ask him what his views are.
"I was always going to give it five weeks, that was the plan," Brown said.
"I wouldn't sit here now and say we're going to do one or the other but I'll have a conversation with Kalyn.
"I'm not one of these coaches who's stubborn enough not to put my hand up and say 'maybe it's not a good idea'."
As the Raiders celebrate their second win of the season, it is their resolve and grit that is pleasing coach Ricky Stuart the most.
"When the boys came back to pre-season work this year, I noticed more maturity in a lot of the individuals that needed it," Stuart said.
"There was a disgruntled feeling of not making the semis and I reckon that's been two real key ingredients for the work that's been completed in the off-season.
"I don't know how many games we had last year when we capitulated at the back end."
NRL News Player of the Game
3. Charnze Nicholl-Klokstad
2. John Bateman
Sam Williams