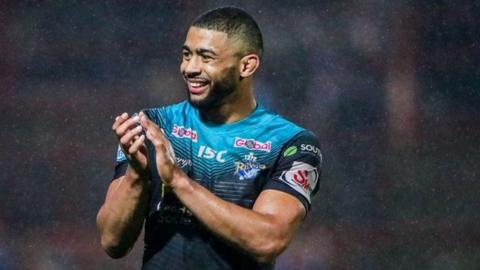 Already departing at season's end, Kallum Watkins' move will take place quicker, as he signs with the Gold Coast Titans from July 1. 
Watkins deal with the Gold Coast club will run until the end of the 2021 season.
Although their last dive into the English player market in Dan Sarginson did not go according to plan, they are hopeful Watkins can provide some intensity.
"Kallum is an exceptional talent," Titans Head of Performance and Culture Mal Meninga said. "I have had to coach against him with the Kangaroos, and he is a very dangerous player.
"Importantly for the Titans however, he is also a very experienced player and a terrific leader.
"As captain of the Rhinos, he has shown the leadership qualities that will be a tremendous asset for the Titans."
Meninga also said the signing of Watkins and young half Tanah Boyd is signalling the club's intent to compete.
"After the signing of Tanah Boyd, we have made a statement about the future of the Titans," Meninga continued.
"Now with Kallum, we are showing that we are also investing in immediate success, and that this club is capable of attracting the best talent in the game, from right around the world."
Although he is excited about the new deal and what lies ahead, Watkins' focus remains on the remainder of the Leeds Rhinos campaign.
"I am excited to be going to the Titans and the new challenge for me and my family," Watkins said.
"It has all happened so quickly but my focus for now is on helping the Rhinos climb the table.
"I have had so much great support from our fans, sponsors players and staff and I will be doing my best, as I always do, before I leave."