The NRL player interviews keep on coming, this time it's former Parramatta Eels, Northern Eagles and South Sydney Rabbitohs utility Jay Bandy.
A versatile hooker or lock, Bandy played 13 NRL games but made every one count like it was his last.
His resolve and tenacity were applauded by many, as we chat to him about the early days, footy and post-footy.
Sit back, and enjoy the interview:
1. You were born and raised in Leeton, NSW; what are your earliest memories of rugby league?
I was born in Leeton but raised in Barellan NSW.
My earliest memories of Rugby League was at 3, 4 & 5 when I went to the Barellan Rams footy training as a kid and all the men letting me join in the training drills at training.
It was so good training with the men at such a young age and there was a few of us young bloke always at training.
2. Tell us a bit about your junior development both in Leeton and elsewhere prior to your first-grade debut?
As I said above, I lived in Barellan and always had a footy in my hand 24/7. I played my first game over in Leeton in the Under 5's at 3 years old.
There were a heap of Barellan kids that went across. So many, that we ended up starting our own Barellan team in U9's or something like that. 9's, 10's 11's and 12's possibly we played as the Barellan Rams and were undefeated for 3 years from memory.
I made the Riverina PSSA team and had the trip of a life time up the Gold Coast and I still remember it today. Playing with some great players in Adam Perry and Todd Payten who went on to play NRL also.
They ended up playing a lot more NRL games then me. After that, I went back and played in Leeton for a couple of years and then went up to play for the Leeton Greenies U16's at 15 as most of the country kids do play up an age or 2.
But then I went away to boarding school at St Greg's Campbelltown. It was the best couple of years of my life to date. Again, playing footy 24/7 and you always had 20 or 30 boys wanting to play footy.
3. You made your debut in 1999 with the Parramatta Eels, a game the side won; talk us through that experience and what it meant to make your debut?
I remember it well. Brian Smith pulled me into the office and said I'm playing hooker this week.
It was the last round games of the 1999 season and it was against the Bunnies before they got kicked out of the competition. Packing in against Sean Garlick who gave me a lot of stick and bit of sledging to try and unsettle me.
It was one of those life time experiences I will never forget; playing with the likes of my childhood heros in Jim Dymock, Dean Pay, Jason Smith, Jarrod McCraken.
I remember tackling Mark Carroll early on in the game and that gave me a lot of confidence because up until that moment, I didn't think I was worthy of playing in the NRL.
Especially not on the same field as all the people I used to watch on TV and now I was doing it myself. Something I had dreamed about all my life and I was finally there.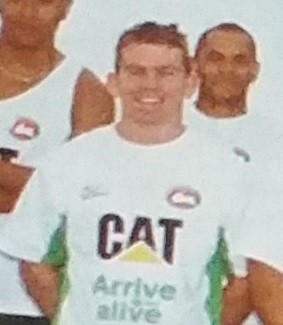 4. You had just the one season at the Eels before you moved to the Northern Eagles for two seasons; what was it like to play for that organisation.
I had 2 season at the Eels. 1998 & 1999 which was so good.
Very successful couple of years getting beat by North Sydney in the Jersey Flegg Grand Final in 1998 and then winning the reserve grade grand final in 1999 where we won 18 or 19 games in a row that season and then winning the Grand Final 56 to 6.
I went across to the Northern Eagles because Peter Sharp was the assistant coach at the Parramatta Eels in 1999 and we got on really well.
I signed with the Manly Sea Eagles before the merger sent through. In hindsight, I should have stayed at the Eels as a couple of weeks after I signed with Manly, the merger went through & I was the 3rd string hooker behind the 2 state of Origin hookers in Geoff Toovey and Jimmy Goddard.
I only played 3 games in 2000 when Tooves and Jimmy were in Origin and in 2002 I played 7 NRL games but still couldn't get any consistent games because we were losing.
The team kept changing each week and towards the end of 2001, I hurt my back at training and ended up having a back operation at the end of that season.
It was a tough couple of years at the Northern Eagles with not much success. We were travelling up and down the freeway between Manly and the Central Coast.
The car trips were a blast with one of the funniest men in the NRL in Josh Stuart; also Phil Bailey & Greg Ebrill. Those were great times with great mates.
5. You then moved to Souths following that in 2002; which organisation did you feel most at home with during your playing career?

Yeah, I signed with Souths with a bad back. I had a back operation before I got there and I also had another one after preseason due to it not being right. It was never any good again unfortunately.
I remember laying in hospital after my second back operation watching the Charity Shield on TV when I should have been playing in the game.
Not in a good head space and wondering if my back will ever be good enough to play NRL again. And it wasn't really. I only played 2 NRL games that year.
There were some great guys there at Souths but I didn't enjoy the season at all. I was in a lot of pain from my back. Trying to play each week in pain and we were losing.
The only thing that year that kept me going was the mates iIwas playing with. They were great fellas and are still mates today.
Arthur Kitinas was the reserve grade coach and he was great also but I wasn't at Souths to play reserve grade.
It was a tough year all around. I signed at Souths for 2 years but only played 1 season due to my back not being up to it and constantly being in pain day in and day out.
6. You're currently the Director of both Everything Workwear and Everything Sports; tell us a bit about that venture and what prompted you to move into that path?
When I left the NRL, I wasn't in a good place. I was only 23 and as I said before, my back wasn't great and all I knew outside of rugby league was building.
My uncle was a builder and every school holidays if I wasn't helping my dad in the shearing shed working, I was working with my uncle on the building site or helping my other uncle and pop on the farm driving tractors.
So, after footy, I went building with a mate on the Northern Beaches in Damien Howison. Great fella and looked after me really well. But the pain I was in, it wasn't great to be building all day.
It was just making things worse.
I was thinking what is my life about and is this it for me building for a bate and in that much pain day in and day out.
Because of my back, I started looking at other options and I found a job at Kombat Sports. Luckily, they were a QLD based company looking for a person in NSW with a rugby league background.
Specifically, a Country NSW background, as they had just won a CRL license to supply footy clubs their on-field apparel for the next few years. It all just worked out.
I flew up to meet the owner Paul Franklin and he gave me the job on the spot and I stayed up there for a few days training.
They sent me packing with a computer and some samples to show customers and I loved it.
I was on the road for the first 12 months visiting just about every club in country NSW and I was doing record sales for the company due to my contacts in the country.
Also being hungry for something after Rugby League, it ended up being a perfect fit and saved me really. I have no idea what I would be doing today if it wasn't for that opportunity.
Then in 2012, after nearly 10 years at Kombat, they went bankrupt and I was out of a job.
I had just moved my family and new born baby Cooper up to the Central Coast of NSW and was out of a job but I had been in this place before 10 years earlier.
Things weren't easy but everything happens for a reason. I always wanted to have my own business and this was the time to make the jump.
In September, 2012 I started my own business; Everything Sports. I already had a client base, suppliers and contacts in China so it was a tough transition but having customers and suppliers all ready to go made it a fair bit easier.
Nearly 7 years on, I'm still gong and focused on regional towns to help them look and play their best and make it easy for these country clubs to purchase equipment and apparel.
7. If you have any advice for budding rugby league players; what would it be?
Enjoy it while it lasts, work hard and try & work out what you want to do after rugby league while playing.
Go and work with a sponsor free of charge for 1 day a week. When you're playing NRL, there are so many people that want to help you and would love to have you working in their company so take advantage of that.
Because when you're finished in the NRL, unfortunately, no one cares about you.
The clubs are moving onto the next bunch of players, the NRL player welfare guys like Andy Ryan, Nigel Vagana, Dean Widders are doing a great job but they are busy in their jobs and it is hard for them to support all of the players that leave rugby league each and every year.